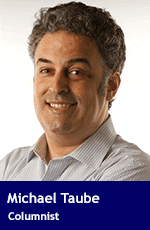 On Oct. 27, comedian Dave Chappelle was awarded the Mark Twain Prize for American Humor at the John F. Kennedy Center for the Performing Arts. He's the 21st recipient of this prestigious honour, joining legends like Carol Burnett, Billy Crystal, David Letterman, Julia Louis-Dreyfus, Eddie Murphy, Bob Newhart, Richard Pryor, Carl Reiner and Jonathan Winters.
Just before Chappelle was given the award, he spoke to NPR and made some interesting remarks about standup comedy. He said it was his "favourite mode of expression," and described it as an "American phenomenon." Moreover, he said it was "the best part of the First Amendment to me that I'm able to express myself this way and make a viable living doing it."
The First Amendment of the U.S. Constitution reads: "Congress shall make no law respecting an establishment of religion, or prohibiting the free exercise thereof; or abridging the freedom of speech, or of the press; or the right of the people peaceably to assemble, and to petition the Government for a redress of grievances."
These important and cherished freedoms not only define what it means to be an American, but provide a source of inspiration to other freedom-loving individuals living in democratic countries like Canada.
This is part of the reason many right-leaning individuals enjoy Chappelle's unique brand of comedy. It also helps explain why I coined the phrase "Conservatives for Chappelle" in a 2017 National Review Online piece. (The Huffington Post's Maxwell Strachan misattributed it to the publication instead of me, but there's no point crying over spilt milk.)
Chappelle worked the U.S. comedy club circuit for years. He went on TV shows like Home Improvement and The Larry Sanders Show, and appeared in movies like Robin Hood: Men in Tights and The Nutty Professor. But it was his groundbreaking sketch comedy series, Chappelle's Show on Comedy Central, which ran from 2003-2006, that caught everyone by storm.
Some memorable sketches included: "Frontline" starring Clayton Bigsby, the blind, black-white supremacist; "Charlie Murphy's True Hollywood Stories," which involved the wild evenings of singer Rick James; "The Niggar Family," about a white household living in an Ozzie and Harriet-type community with a highly unusual last name; and crazy crack addict Tyrone Biggums.
Chappelle abruptly walked away from his show – and a US$50-million deal – and went to South Africa after reports of burnout, frustration and loss of creative control. The death of his father in the late 1990s also turned out to be a reason.
So was his concern that some sketches were "socially irresponsible." One of them, he later told Oprah Winfrey and CNN in separate interviews, was the "Pixie Sketch," in which the little mythical creatures encouraged people to reinforce stereotypes of their own races. He appeared in blackface at a minstrel show and became uncomfortable when he saw a white crew member's reaction. "It was the first time I felt that someone was not laughing with me but laughing at me," he said.
The comedian went under the radar for several years, and would only pop up for occasional interviews and standup routines. He started to appear more often in 2013 and is now in the midst of a career comeback.
Three comedy standup specials on Netflix in 2017 were so popular, they added a fourth – and a fifth special was released earlier this year. He received the Grammy Award for Best Comedy Album in 2018 and 2019, an Emmy in 2018 for Outstanding Variety Special (Pre-Recorded) and was nominated for a 2018 Screen Actor's Guild Award as part of the cast of A Star Is Born. He's been touring with fellow comedian Jon Stewart since 2018 and has worked three standup shows with Aziz Ansari.
Chappelle's comedy is edgy, thought-provoking and outside the box. His mission is to seek the truth at all costs. He refuses to be constrained by political correctness and hurt feelings. He wants his audience to debate, discuss, argue, reflect and react to the world we live in. He's not a fan of the political right but he doesn't think the political left has all the answers, either.
Hence, Chappelle is a liberal comedian whom conservatives can admire and someone who makes us laugh to the point where we're gasping for air. A worthier recipient of the Mark Twain Award would be difficult to find.
Michael Taube, a Troy Media syndicated columnist and Washington Times contributor, was a speechwriter for former prime minister Stephen Harper. He holds a master's degree in comparative politics from the London School of Economics.
---

The views, opinions and positions expressed by columnists and contributors are the author's alone. They do not inherently or expressly reflect the views, opinions and/or positions of our publication.