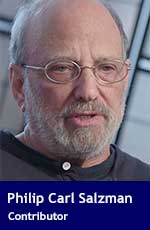 It's become a regular experience in Canada and the United States for a man to be accused of sexual misconduct and for an almost immediate pile-on of haters adding every accusation the mind can imagine.
Contemporary feminists have done a brilliant job in their war against men.
Unsubstantiated accusations are treated as proven guilt. Due process is dismissed as male supremacy. Accusations result in mob hysteria, from even the most allegedly reputable and responsible sources.
Following are four cases in which men have been tried and condemned in the court of public opinion without benefit of the presumption of innocence, without evidence and substantiation being presented to support the accusations, and without the right to defend themselves.
• Ahmed Fekry Ibrahim is a McGill University assistant professor. In the fall of 2017, according to CBC News, an anonymous group on campus posted "stickers … in McGill bathrooms alleging that Ibrahim was a sexual predator. Similar allegations were also made in McGill's student newspaper." Ibrahim's lawyer, Julius Grey, said that "people are being tried and convicted in the court of public opinion with little to no evidence and without a hearing."
Ibrahim's tenure application at McGill was denied and he will have to leave McGill. He says the allegations destroyed his reputation, his right to privacy, and "have made him a pariah in his academic field, ruining his job prospects at McGill and other universities in North America."
Ibrahim has brought a lawsuit for $600,000 against a student and an assistant professor for the "vendetta" against him.
• Patrick Brown was elected leader of the Ontario Progressive Conservative Party in May 2015. He wasn't universally popular in the caucus. If opportunities arose to attack, undermine and replace him, there were a number of enthusiastic party members ready to take them.
There were allegations of serious irregularities in a nomination battle. But the coup de grâce was sexual misconduct allegations made by two anonymous women.
There was never a hearing about the allegations, no evidence was ever presented, and no opportunity to defend himself and present contrary evidence was available to Brown.
Shortly after the news reports of these unsubstantiated allegations, members of Brown's staff and members of the caucus advised him to resign, and when he refused and denied the accusations, the senior members of his staff quit. Shortly after, Brown resigned and later was removed from the PC caucus.
Brown has launched a lawsuit for $8 million against CTV and certain of its reporters and producers.
• A distinguished, award-winning Canadian novelist, and a long-term professor at the University of British Columbia, Steven Galloway was accused of sexual assault by an anonymous graduate student.
As it turned out, the accuser had an extramarital affair with Galloway for two years.
According to the National Post, "In the fall of 2015, Galloway was suspended as chair of the Creative Writing Program at the University of British Columbia for unspecified 'serious allegations.' By the summer of 2016, he had been fired over what the university called an 'irreparable breach of trust.'"
Distinguished feminists and authors like Margaret Atwood who supported Galloway's demand for due process and justice were viciously attacked.
UBC asked retired B.C. Supreme Court justice Mary Ellen Boyd to investigate. She was "'unable to find'" that any of the allegations happened, even on the basis of "the balance of probabilities," the lowest standard of proof used in any judgment. She also found that none of the ancillary complaints indicated any form of misconduct. Boyd awarded Galloway $167,000, ruling that UBC has violated his privacy rights and damaged his reputation.
But, as Galloway says, "the university has gone to … great lengths to hide the fact that one of their professors was cleared of sexual assault charges. In the current climate, exoneration is a PR nightmare."
• As egregiously nasty as the previous cases discussed are, the situation of Marcus Knight is stunning in its void of empathy. Knight is a student at Saddleback College in California. He has autism, cerebral palsy and a shunt to relieve fluid pressure on his brain. According to his mother, he has limited abilities to express himself and can find it difficult to negotiate social situations.
But Knight wants to be "normal" and to make friends. At the beginning of classes in fall 2017, he asked a female student if he could "fist bump" her. She agreed but later filed a complaint under Title IX of the Federal Civil Rights Act of 1964, which forbids sexual harassment and sexual violence.
Later, Knight asked another female student if he could take a selfie with her. According to Knight's mother, Knight's aide approved him asking the question and the female student said yes. Later, the female student reported the incident as sexual harassment. A hearing was set for June at which Knight was to be supported by 18 character witnesses. The college called off the meeting and removed a previously applied suspension, but left a sexual misconduct judgment on his record and continues to require an aide to accompany him at all times.
It appears that whenever a female complains about sexual harassment, however dubious, unsubstantiated, and indecent the accusation is, everyone assumes that what she says is honest, true and correct.
Don't imagine that this feminist war is against only bad men. It's a war is against all men. The object is to degrade and demote men, and replace them with females. Any and all means will be used.
Some deluded men have joined the bandwagon and will no doubt be very surprised when their time as a blood sacrifice comes.
Many women have thought of themselves as feminists because they wanted to be treated fairly, to have equal opportunities with men, and to be judged on the basis of their talents and achievements. Their efforts, which I endorse, have resulted in greater gender equality in western society.
But they need to consider the unprincipled partisanship and virulent gender hate in contemporary feminism, and decide whether they're ready to support the rejection of fairness, truth and justice.
Philip Carl Salzman is professor of Anthropology at McGill University, senior fellow at the Frontier Centre for Public Policy, and fellow of the Middle East Forum.
---

The views, opinions and positions expressed by columnists and contributors are the author's alone. They do not inherently or expressly reflect the views, opinions and/or positions of our publication.