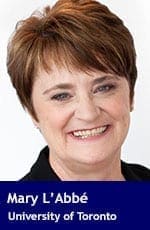 The long process of updating Canada's Food Guide and reforming nutrition labelling will soon become a reality. And that's good news.
Collectively called Canada's Healthy Eating Strategy, the proposals by Health Canada have been open to public consultation – and, unfortunately, industry lobbying.
No one is arguing with the rights of all Canadians to be heard on policies proposed by governments. But we must ensure decisions are based on neutral scientific evidence, not the persuasiveness or lobbying budgets of the processed food manufacturing sector.
We need to make sure that conflict of interest is identified and not allowed to influence public health decisions.
Some might wonder why government proclamations are crucial. After all, Canadians generally don't carry the Food Guide to a restaurant or grocery store. And some will say they don't want the government telling them what to eat.
But the goal of these policies is not to mandate what Canadians eat. It's to allow informed choices that lead to better health.
Along with being used by individuals, Canada's Food Guide is the foundation for nutrition curricula in schools across Canada and the basis for meal planning in most institutions: military bases, prisons, daycares, hospitals and retirement residences. It's one of the most powerful policy and education tools available to influence diets and impact our health.
Similarly, food packaging requirements are important and influence food choices, as many studies show.
Unfortunately, as confirmed in a study I conducted last year with colleagues at the University of Toronto, what's stated now on packages often doesn't give consumers the full picture.
For example, many consumers seeing "No added sugar" on the front of a package mistakenly think it means the product has no sugar. But our study found that while more than one-third of fruit drinks made the "No added sugar" claim, 99 percent of them contained excess free sugar. Free sugars are those added to foods as well as those naturally present in syrup, honey and fruit juice. They're different from the intrinsic sugars found in whole foods such as fruit and vegetables.
Additionally, we found 85 percent of products claiming to be "reduced in sugar" still contained excess sugar levels. Most food products making reduced or "no added" sugar claims didn't have reduced calories, which studies show most consumers expect on foods with such claims.
It's not for nothing that the food industry invests so much in developing and refining packaging. The information mandated by government – such as the nutrition facts table, what it includes and where it must be placed – directly impacts what we buy and what we eat.
The proposals for prominent and clear front-of-package labelling to identify products high in saturated fat, salt or sugar are sensible and important. They'll allow Canadians to more easily make informed choices.
The long-term impact of these policies is why the process used by the federal government for these important changes is so vital.
Twenty-six of the world's most prominent nutrition experts recently sent a letter to Health Canada stressing that the science is clear: excess consumption of foods and beverages high in energy, added sugar, sodium and saturated fat has a negative impact on health. This group has come out in strong support of front-of-package warning labels as a way to curb consumption of these unhealthy products, most of which are processed junk foods.
We can't afford to have this work undermined by food manufacturers bending the planned policies to favour their products – their short-term gain over Canadians' long-term health.
Millions of Canadians live with diet-related disease, costing $26 billion a year and causing 47,000 deaths in 2016. Almost one in three children is overweight or obese.
Critics of the proposed policies use scare tactics that claim the goal of the changes is to force food choices on Canadians and to hurt our agriculture.
But the goal, of course, is to inform choices, not restrict them. Canadian agriculture has a crucial role in supplying the many nutritious foods we all need and eat every day. That will never change.
What certainly does need to change is our steady march toward obesity and diet-related sickness. Canada's new Healthy Eating Strategy is a much-needed turn away from that fate.
Dr. Mary L'Abbé is a Professor (formerly Earle W. McHenry Professor and Chair) at the Department of Nutritional Sciences, Faculty of Medicine, at the University of Toronto, where she leads a research group on Food and Nutrition Policy for Population Health.
---

The views, opinions and positions expressed by columnists and contributors are the author's alone. They do not inherently or expressly reflect the views, opinions and/or positions of our publication.