Museums need to enhance security measures due to an increase in art vandalism by far-left groups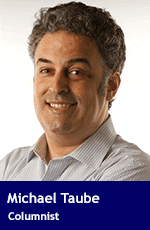 The recent rash of art vandalism has arrived in Canada. While it was inevitable we would have to deal with this growing threat, it also provides us with an opportunity to help prevent more of these attacks from occurring.
Kaleb Suedfeld, a climate activist, attempted to deface Tom Thomson's Northern River at the National Gallery of Canada on Aug. 29. A member of the far-left group On2Ottawa, which has called for a national firefighting agency of 50,000 members to deal with forest fires, he callously threw pink paint at this masterpiece and smeared it.
"What's more important, these pictures of landscapes, these beautiful pictures by a Canadian artist, or the landscape they painted?" Suedfeld said after he glued his hand to the floor. "How much longer are we going to allow our governments to be beholden to the whims of the fossil fuel industry?"
Thomson's painting, which is kept under protective glass, wasn't ruined.
"An individual, who is unknown to the National Gallery of Canada, attempted to deface Tom Thomson's Northern River, 1915, on view at the Gallery," according to its Aug. 29 statement. "Fortunately, the artwork was not harmed during the incident. The Gallery immediately implemented security protocols and the Ottawa Police Service arrested the individual. The work was displayed in a protective glazed panel and has been taken out from display for further evaluation. We expect it will be rehung shortly."
This disgraceful display of vandalism is reminiscent of high-profile attacks on artwork in European galleries by similar far-left cretins.
Two members of Just Stop Oil threw tin cans of tomato soup at Vincent Van Gogh's Sunflowers at the National Gallery in London, England, on Oct. 14, 2022. "What is worth more – art or life?" one protester said. "Is it worth more than food? Worth more than justice? Are you more concerned about the protection of a painting, or the protection of our planet and people? The cost of living crisis is part of the cost of oil crisis. Fuel is unaffordable to millions of cold, hungry families. They can't even afford to heat a tin of soup."
Two members of Last Generation then threw mashed potatoes at Claude Monet's Grainstacks at the Barberini Museum in Potsdam, Germany, on Oct. 23, 2022. "We are in a climate catastrophe. And all you are afraid of is tomato soup or mashed potatoes on a painting," one protester said. "This painting is not going to be worth anything if we have to fight over food."
These far-left climate activists, like their Canadian counterparts, attacked paintings that were housed under protective glass. They evidently felt this was a responsible means of protest when it was nothing more than an irresponsible attack on great art. They also glued their hands to the floor before making their pointless statements in an attempt to justify their offensive actions. Wouldn't it have been a shame if other, shall we say, more sensitive body parts had accidentally received a few dabs of glue, too?
Sadly, these acts of art vandalism are nothing new in our society. Many artistic masterpieces have been attacked over the years. Leonardo da Vinci's Mona Lisa on multiple occasions, for instance. Rembrandt van Rijn's Night Watch and Edvard Eriksen's The Little Mermaid have also suffered the same fate.
As it happens, I recently visited the scene of an infamous attack on a great work of art.
Michelangelo's David, on display at the Galleria dell'Accademia in Florence, Italy, was damaged in 1991 by a painter. Piero Cannata "struck at the statue with a hammer he had hidden under his jacket, breaking the second toe of the left foot," the New York Times reported on Sept. 15, 1991. He was arrested by police with the help of museum patrons, and the toe was immediately repaired and glued back together.
Museums and galleries have always been vulnerable to these attacks. The recent surge in art vandalism means significant changes in how we house and protect these priceless artifacts should be a high priority.
The most recent target, Canada, could help lead the charge. Ottawa's National Gallery, the Montreal Museum of Fine Arts, Calgary's Glenbow Museum, Vancouver Art Gallery, Toronto's Art Gallery of Ontario and others need to take immediate action. They have to work with different levels of government, the police and the private sector to improve deficiencies with security measures. This means more security guards, cameras, screening and checkpoints at the front entrance. It will slow things down for visitors, to be sure, but it will help ensure that every special and permanent collection is more safe and secure.
Will Canada take the initiative to bring an end to art vandalism? Time will tell if our museums and galleries are willing to use broad brushstrokes and paint a better picture.
Michael Taube, a Troy Media syndicated columnist and Washington Times contributor, was a speechwriter for former Prime Minister Stephen Harper. He holds a master's degree in comparative politics from the London School of Economics.
For interview requests, click here.
---
The opinions expressed by our columnists and contributors are theirs alone and do not inherently or expressly reflect the views of our publication.
© Troy Media
Troy Media is an editorial content provider to media outlets and its own hosted community news outlets across Canada.