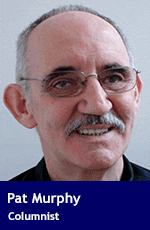 On Sept. 30, 1968, an American vice-president made a dash for political independence. Speaking in Salt Lake City, Hubert Humphrey began the process of trying to separate his floundering presidential campaign from the spectre of his boss, President Lyndon Johnson.
Humphrey's initiative was to call for a change in America's prosecution of the Vietnam War. Specifically, he wanted a bombing halt.
Johnson wasn't pleased.
When Humphrey phoned him to provide a heads-up, Johnson responded testily: "I take it you are not asking for my advice. You're going to give the speech anyway."
The son of a small-town South Dakota pharmacist, Hubert Horatio Humphrey (1911-1978) was one of the Democratic Party's most prominent mid-20th century liberals. He came to national attention at the 1948 Democratic convention with a controversial speech arguing for an aggressive civil rights platform. It was a topic that continued to engage his interest over the ensuing years. He was, for instance, the lead author of the Civil Rights Act of 1964.
Humphrey caught the presidential bug early, perhaps not long after being first elected to the U.S. Senate (from Minnesota) in 1948.
Alas, he wasn't central casting's idea of an obvious presidential contender. Round and balding, he was loquacious to the point of being a motor-mouth. And his general bonhomie sometimes seemed overdone.
Still, when you've caught the presidential bug, you're hooked.
Humphrey's first serious bid was in 1960, competing against Sen. John F. Kennedy in the early primaries. It didn't end well.
For one thing, Kennedy was superior political horseflesh. Handsome and charismatic, he had an appeal that Humphrey couldn't hope to match. And while some observers doubted Kennedy's qualifications for the presidency, very few – if any – underrated his political skill.
Then there was the Kennedy family money and the Kennedy ruthlessness. In the May 1960 West Virginia primary, Humphrey felt the lash of both.
Thousands of dollars were handed out as "walking around" money to lubricate the Kennedy vote, and Franklin D. Roosevelt Jr. – a Kennedy ally – publicly planted the inference that Humphrey had been a Second World War draft dodger. In a 61-39 landslide, Humphrey's challenge was well and truly buried.
However, the presidential quest wasn't over.
After Kennedy's assassination and Johnson's accession, the vice-presidential spot on the Democratic 1964 ticket was open. Humphrey got the nod and the Democrats swept the election.
But being within a heartbeat of the presidency was a very mixed blessing. You might even say that it proved to be his ultimate undoing.
On Feb. 17, 1965, Humphrey sent Johnson a memorandum counselling against escalation of the American involvement in Vietnam. With the 1964 election safely won, Humphrey wanted to take advantage of what he saw as a period of "minimum political risk." To quote: "It is always hard to cut losses. But the Johnson administration is in a stronger position to do so now than any administration in this century."
It was to no avail.
Johnson and the national security team he'd inherited from Kennedy – the fabled best and the brightest – were convinced otherwise. So the American commitment deepened and the seeds of Johnson's political destruction were sown. In the process, Humphrey was collateral damage.
First, Johnson froze him out. Then Humphrey became a vocal supporter of Johnson's Vietnam policy, which alienated many outside the administration who'd have otherwise been favourably disposed towards him.
Why Humphrey did this is something of a conundrum.
Perhaps he genuinely changed his mind. Or maybe political expediency allowed him to convince himself that he had. Or as his reservations were prudential rather than moral, he might have decided it was appropriate to be a team player.
Another theory, suggested by a recent biographer, holds that Humphrey was "dependent emotionally" on Johnson's approval. If so, he was caught in a trap constructed by his own personality. He lacked the requisite temperament for the top job.
In any event, the dash for independence was ultimately futile.
Through a combination of winning over undecided voters and wooing back working-class Democrats who'd been flirting with independent candidate George Wallace, Humphrey did dramatically close the gap. But Republican Richard Nixon still won, narrowly in the popular vote and decisively in the electoral college.
Humphrey tried for the presidency twice more, only to come up short each time. Ambition notwithstanding, he wasn't meant for the job.
Pat Murphy casts a history buff's eye at the goings-on in our world. Never cynical – well, perhaps just a little bit.
---

The views, opinions and positions expressed by columnists and contributors are the author's alone. They do not inherently or expressly reflect the views, opinions and/or positions of our publication.