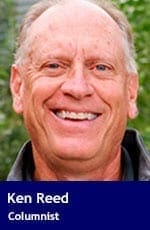 Jim Bouton died this month at age 80. The plethora of Bouton obituaries and tributes since have focused on his pitching career, which included winning a couple World Series games with the New York Yankees, and the blockbuster book Ball Four he wrote about his 1969 season.
But Jim Bouton was also an influential sports reformer and social activist.
Bouton was indeed a star pitcher for the New York Yankees. He won 21 games for the Yankees in 1963 and 18 in 1964. He won two more games in the 1964 World Series against St. Louis.
An arm injury in 1965 stole his outstanding fastball and his career began to decline. By the late 1960s, he was relying on a knuckleball to survive.
In 1969, Bouton decided to start keeping notes for a diary-style book that became Ball Four, one of the most famous sports books of all time.
Bouton's book caused a huge uproar in the baseball world because it chronicled some behind-the-scenes activities in baseball that had never been reported. After the book's publication, Major League Baseball commissioner Bowie Kuhn tried to get Bouton to sign a statement saying the book was untrue.
Bouton's intent was to show fans what life as a professional baseball player was really like and to highlight some of the funny aspects of the game he loved. While he certainly accomplished that, the biggest impact Ball Four had on the game was the role it played in the 1975 Andy Messersmith arbitration case, which in effect ended the onerous reserve clause system that owners had employed for decades. The arbitration hearing gave players free agency.
"Marvin Miller (head of the players union) wanted me to go to the Andy Messersmith arbitration hearing in 1975, which ultimately led to free agency in baseball, and read a few excerpts from Ball Four," Bouton told me a couple of years ago in an interview.
"I read one story from the book about a player being cheated by a general manager, and one of the lawyers for the owners stood up and said, 'We don't need to go through all this. We'll accept the book as it is.' So Ball Four went unchallenged in the hearing testimony."
Ball Four also changed how reporters covered professional baseball, and the owners, executives, coaches and players in the game. Prior to Ball Four, reporters basically served as public relations agents for the teams they covered. Stories were almost always spun from a perspective that team owners would approve of and players were depicted as Frank Merriwell-like all-Americans.
Beat writers ignored any player indiscretions or unusual activities – even those that clearly had a negative impact on a player's performance on the field.
Ball Four changed all that. Sports journalism became more open, honest and ethical.
Bouton may be the only person to help spur significant reform in both sports and sports journalism in the United States.
"I just wanted to write about what was actually happening," said Bouton. "It wasn't until the book came out that some observers started talking about how the book was changing sportswriting. That's when I started thinking, 'Wow, what have I done here?' That wasn't one of my objectives but it was a positive byproduct."
The New York Public Library named Ball Four as one of its "Books of the Century," the only sports book so selected. Journalist and historian David Halberstam called it a "book deep in the American vein, so deep in fact that it is by no means a sports book."
Bouton was an activist in other ways as well. He was part of a group of sports figures that travelled to the 1968 Summer Olympics in Mexico City to protest the inclusion of apartheid South Africa.
Later, Bouton exposed small-town government and media corruption with his book Foul Ball, which chronicled his efforts to save an historic small-town ballpark. The San Francisco Chronicle said Foul Ball was "not just a funny book, but a patriotic one." He's also the author of Strike Zone, a novel, and I'm Glad You Didn't Take it Personally, a followup to Ball Four.
"Writing Ball Four, keeping notes about that time and that season, was the best thing I ever did in my life," said Bouton upon reflection. "It was just a strike of good fortune. It was a lot of hard work and I had to be diligent with my note-taking. There were several times when I said, 'Ah, the hell with it. This is a waste of time.' But I stuck with it and I'm sure glad I did."
* * *
If you haven't read Ball Four, or would like to read it again, make sure you get the last edition, Ball Four: The Final Pitch. It includes updates from Bouton on his life, and those of his teammates, managers and coaches through the years since the book's original publication in 1970. The last update was in 2014.
The last edition is a great human interest read with all the ups-and-downs-of-life updates on the book's characters. I highly recommend it.
Ken Reed is sports policy director for League of Fans (leagueoffans.org), a sports reform project. He is the author of The Sports Reformers, Ego vs. Soul in Sports, and How We Can Save Sports.
---

The views, opinions and positions expressed by columnists and contributors are the author's alone. They do not inherently or expressly reflect the views, opinions and/or positions of our publication.