Nixon and Reagan's complex relationship unveiled in 2012's The President's Club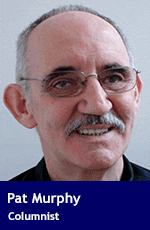 Published in 2012, The President's Club is an interesting exploration of the personal relationships between various American presidents. Among the subjects are Richard Nixon and Ronald Reagan, whom the authors dub The California Boys.
While both men had California as a political base, their relationships with the state were different.
Although born and raised there, Nixon lived most of his adult life on the other side of the country. Out of office, he preferred New York City and New Jersey. Reagan, in contrast, came from small-town Illinois and didn't move to California until his mid-20s. But apart from his eight years in the White House, California was home for the rest of his life.
The two men first crossed paths in 1947. Nixon was an ambitious freshman Republican who had been elected to Congress the previous year. Reagan was a minor movie star, union leader (president of the Screen Actors Guild) and Democratic activist. Strong anti-communism was about all they had in common.
It wasn't until the mid-1960s that any material connection was established. And then it was an association characterized by the mutual wariness of prospective competitors.
In the intervening years, Nixon had served two terms as vice president, lost a razor-thin 1960 presidential election and endured a humiliating defeat in a 1962 California gubernatorial race that he never really wanted to enter. Reagan, meanwhile, had switched parties, formally entered politics and become the Republicans' rising star by virtue of a landslide 1966 California victory over the man who'd beaten Nixon four years earlier.
Both had an interest in the impending 1968 presidential election.
For Nixon, the presidency would be the culmination of everything he'd long worked for. Reagan's situation was different. As the new kid in town – and a former actor to boot – the idea seemed fanciful, even audacious. But there were plenty of eager supporters to egg him on.
Nixon immediately sensed danger and sought to head it off. In private correspondence, he evinced understanding of the pressures on Reagan while subtly hinting that he should refrain from running. Reagan would artfully deflect, expressing the hope for "a united Republican Party behind our candidate in November."
Even after being elected president in 1968 and re-elected in 1972, Nixon continued to keep a watchful eye. It wasn't a matter of seeing Reagan as a potential successor. Privately, Nixon dismissed him as "decent" but in no way up to the presidential job. But given Reagan's undoubted charisma and large following, it was still best to have him onside.
Then came 1980 and the first of Reagan's two presidential sweeps, at which point Nixon wanted in on the action. As in most things, his motives were likely mixed.
The altruistic bit would've had to do with knowledge. In Nixon's mind, Reagan would be out of his depth and thus sorely in need of wise counsel from someone with vastly more experience and expertise. Filling that role would be an exercise in patriotism on Nixon's part.
His underlying assumption was shared by many on all sides of the political spectrum. Reagan was supposedly an "empty vessel" into which smarter people could pour ideas. He was really a pitchman for policies that others would design. Give him the product and he'd skilfully sell it.
There was also a degree of Nixonian self-interest at work. Reagan's accession provided a vehicle for continuing Nixon's effort at redemption following his Watergate-driven 1974 resignation. And for a man whose twin passions in life were politics and foreign affairs, the ability to have influence at the highest levels was a heady prospect.
So Nixon set to work without delay. Less than two weeks after the 1980 election, he sent Reagan a long letter full of suggestions about staffing and presidential organization. This set the pattern for a regular flow of advice, much of which Reagan seemed to appreciate.
But as James Mann laid out in his 2009 book The Rebellion of Ronald Reagan, the warm relationship turned decidedly cooler in the mid-80s. To Nixon's chagrin, it transpired that the "empty vessel" had heretical thoughts of his own.
Foreign policy was the point of contention, the disagreement went public and other worthies, such as Henry Kissinger, chimed in on Nixon's side. Their critique held that Reagan was too trusting of Mikhail Gorbachev. And if that wasn't bad enough, his moral disdain for the long-standing deterrence doctrine of Mutual Assured Destruction (MAD) was dangerously naive.
Reagan, the hard-line anti-communist whom some accused of being indifferent to the prospect of Armageddon, was actually a nuclear weapons abolitionist! Who knew?
Troy Media columnist Pat Murphy casts a history buff's eye at the goings-on in our world. Never cynical – well, perhaps a little bit.
For interview requests, click here.
---
The opinions expressed by our columnists and contributors are theirs alone and do not inherently or expressly reflect the views of our publication.
© Troy Media
Troy Media is an editorial content provider to media outlets and its own hosted community news outlets across Canada.