An egalitarian trend in the media is to add the perspectives of ordinary people who don't actually have perspectives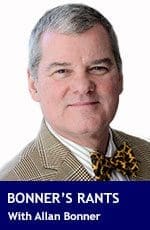 "Know it alls" and the "right people" in fashionable suburbs in my parents' generation referred to television as the "boob tube." Others referred to the "idiot box." Parents denounced rock and roll radio but without the colourful nicknames.
When print morphed from broadsheets to tabloid newspapers with salacious stories and sexy pictures, the world was further divided into know-it-alls and know-nothings who just wanted some eye candy with breakfast.
Even skilled practitioners seemed to be trying to diminish their own medium. Serious public affairs programs in the 1960s featured "in-depth" and serious-sounding reports on Beatle drummer Ringo Starr's tonsillectomy, office protocol for mini skirts, and other such frivolities. Even the great Walter Cronkite's CBS Evening News, watched by about 20 million people, featured Charles Kuralt's "On the Road" series. These were disposable features about odd people in odd places doing odd things.
Radio was dismissive of its own traditions of news gathering. Even serious sounding all-news stations consisted mainly of yelling nouns and gerunds at the audience ("weather worsening …") in a cycle every 15 minutes.
All media then took steroids with the 500-channel cable TV universe, the proliferation of FM radio, Satelite Radio, consumers' own "radio" on IPods, and consumers' own newspapers on Google.
We've been here before with razzle dazzle journalism featuring stunts and gimmicks from the 1920s on, appealing nonsense on Steve Allen's Tonight Show in the mid-1950s, and disc jockeys broadcasting from flag poles in the 1960s. No one pretended this conveyed knowledge.
What's new and disturbing is the proliferation of less and less appealing nonsense and the illusion of knowledge at the click of a mouse. There is information at the click of a mouse, but that's not knowledge. Analytics may tell us that 45,000 Danish telephones are ringing right now and that 73 percent of the population east of the Rockies is vaccinated, but that's just information which might become knowledge if a user adds the right special sauce.
What we have in new and legacy media is tons of raw information, with little of it being processed or analyzed. An egalitarian trend is to add the perspectives of ordinary people who don't actually have perspectives. This kind of information is not even power, to turn the old phrase around, because it doesn't connect with anything – no impact on public policy or people.
"Know-how" is a form of knowledge. Two hundred or so trades feature workers who know how to do stuff that keeps us surviving and moving forward. This know-how is codified in Red Seal contractors (electrical, plumbing, carpentry). They pass their knowledge on to their apprentices.
Discovering knowledge is hard and so is passing it on. Donald Schon's book The Reflexive Practitioner shows that a knowledgeable person may have difficulty assessing what works well while in full flight or explaining herself to apprentices. The great athlete is often a mediocre coach, and vice versa.
Be careful what you think you know. You may not.
Allan Bonner was the first North American to be awarded an MSc in Risk, Crisis, and Disaster Management. He trained in England and has worked in the field on five continents for 35 years. His latest book is Emergency! – a monograph with 13 other authors on the many crises that occurred during the pandemic.
For interview requests, click here.
---
The opinions expressed by our columnists and contributors are theirs alone and do not inherently or expressly reflect the views of our publication.
© Troy Media
Troy Media is an editorial content provider to media outlets and its own hosted community news outlets across Canada.