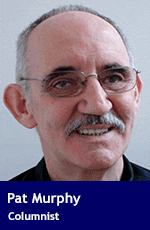 When Bonanza made its debut on Saturday, Sept. 12, 1959, it was joining a TV schedule littered with series westerns. During that 1959-60 season, over 30 westerns regularly stalked North American home screens.
And most of them were on network evening TV, thus occupying plum spots during peak viewing hours. ABC's 1959-60 Sunday night roster featured no fewer than five westerns.
Like any genre, the western had its tropes and limitations. But that didn't mean that all shows were identical.
Some drew inspiration from real historical personalities like Bat Masterson and Wyatt Earp. Of course, inspiration wasn't to be confused with a strict adherence to facts. That would never do.
There were also shows with a strong element of humour. Maverick is perhaps the best example.
And sometimes, such as with Joel McCrea in Wichita Town, a show was a last hurrah for an aging movie star.
Other times, it was a springboard for what became a major film career. Think Steve McQueen in Wanted: Dead or Alive and Clint Eastwood in Rawhide.
Two shows stood out – Gunsmoke and Bonanza. While they weren't the only westerns to generate large audiences, their longevity and sustained popularity put them in a class apart.
Gunsmoke began as a radio series in 1952 and ran in that medium until 1961. Set in Dodge City, Kansas, it was deliberately created for an adult audience and revelled in a bleak, unsparing depiction of the Old West.
Gunsmoke's creator, John Meston, conceived of a leading man without the altruistic heroism associated with other cowboy figures. Matt Dillon was to be "almost as scarred as the homicidal psychopaths who drifted into Dodge from all directions."
And the main female role – Miss Kitty – was a prostitute, although the details of her occupation were laid between the lines rather than explicitly spelled out. But the observant and worldly-wise weren't fooled. As a Time magazine feature put it, she was "obviously not selling chocolate bars."
None of the main radio actors participated in the TV adaptation. Instead, the network opted to recast. TV, after all, was a visual medium and physical appearance was deemed to matter.
Gunsmoke made its TV debut on Sept. 10, 1955, ran for 20 seasons and racked up 635 episodes. For several of those years, it was the most popular show on air. When it was cancelled in 1975, it was still in the top 30.
Bonanza, in contrast, was conceived entirely for television.
Set in 1860s Nevada, it portrayed the Cartwright family, which consisted of a father and three sons living on a vast ranch called the Ponderosa. Ben Cartwright, the patriarch played by Canadian Lorne Greene, was thrice-widowed, each marriage having produced one of the sons.
Female characters came and went but there were no permanent attachments. Nor was there a Bonanza equivalent of Miss Kitty. The major interactions were male-oriented and familial.
Insofar as the term would have been understood at the time, Bonanza had a moderately liberal tinge. But being a network show aimed at a mass audience, it operated within definite boundaries. Corporate sponsors instinctively disliked controversy and tended to shy away from themes that might alienate some part of the customer base.
Still, and however gingerly, Bonanza did feature story lines incorporating issues like domestic violence, substance abuse, bigotry and the environment. It didn't polarize or preach, but it did nudge.
Two of the four main characters – the patriarch and the youngest son – stayed with the show for its entire 14 seasons. The oldest son was written out after six years because the actor playing the part was unhappy with aspects of his character and the gruelling schedule of 34 episodes per season. And the middle son, portrayed by Dan Blocker, departed when Blocker unexpectedly died following a 1972 gall bladder operation.
Bonanza wasn't initially a huge hit. However, when it was switched to the Sunday 9 p.m. slot for the 1961-62 season, it took off. By 1964, it was television's top show and it remained in the top 10 until 1971.
From the vantage point of 2019, it's difficult to imagine a TV world like that into which Bonanza debuted 60 years ago. The English novelist L.P. Hartley got it right: "The past is a foreign country: they do things differently there."
Pat Murphy casts a history buff's eye at the goings-on in our world. Never cynical – well perhaps a little bit.
---

The views, opinions and positions expressed by columnists and contributors are the author's alone. They do not inherently or expressly reflect the views, opinions and/or positions of our publication.