Anthony Furey: The Conservative hope in Toronto's mayoral race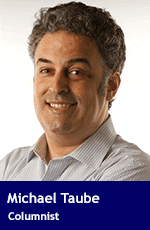 John Tory stepped down as Mayor of Toronto on Feb. 17, a week after he acknowledged a months-long affair with a young former staffer. His resignation set the stage for a mayoral by-election to be held just as summer rolls around.
A total of 102 candidates registered for this highly unusual political race by the May 12 deadline. The vast majority are either fringe or one-issue candidates who will end up with infinitesimal amounts of support. Eight or so individuals have become main contenders.
Former NDP MP and city councillor Olivia Chow has moved out well in front of not only other centre-left candidates, including city councillor Josh Matlow and former Ontario Liberal MPP Mitzi Hunter, but other mayoral hopefuls from across the political spectrum.
Chow has either 32 percent support (according to Mainstreet Research's May 30-31 poll) or 38 percent (according to Forum Research's June 2 poll). She's well ahead of her leading rivals, who are sitting in single digits and low double digits.
The widow of late NDP leader Jack Layton, Chow is a longtime left-wing activist who could destroy Toronto's political landscape and economic future with a simple snap of her fingers. Her plan includes the introduction of a luxury tax "with new graduated rates on purchases of homes valued at over $3 million," raising the vacant home tax from one to three percent, increasing spending on public transit, creating 25,000 new rent-controlled homes, and spending $100 million annually to take thousands of homes "off the private market and giving them to not-for-profits, community land trusts, and Indigenous housing providers."
A significant number of Toronto progressives seem solidly behind Chow. Her failed 2014 Toronto mayoral campaign is a distant memory. Opportunities for Matlow, Hunter, former Liberal MP Celina Caesar-Chavannes, city councillor/former Ontario NDP MPP Anthony Perruzza and others to pluck from her voting base are slowly disappearing.
But Torontonians still have plenty of time to consider issues and park (or shift) their votes. The question is whether any centre or centre-right mayoral candidate can effectively challenge Chow.
City councillor Ana Bailão is trying to utilize Tory's approach of cobbling together business-oriented Liberals and centre-right Conservatives. City councillor Brad Bradford and former city councillor/1996 Ontario PC candidate Rob Davis are both building similar political bridges to Bailão but more focused on the centre-right. Former Toronto police chief Mark Saunders, who ran for the Ontario PCs in 2022, is mixing conservative ideas, Ford Nation-style populism and law-and-order policies. Former journalist/political commentator Anthony Furey has blended conservative and libertarian ideas.
Toronto Conservatives, along with business-oriented Liberals and right-thinking independents, need to unite behind one mayoral candidate in hopes of defeating Chow.
Who am I endorsing?
Furey.
We've known each other for years, having worked together as Toronto Sun columnists and at Sun Media. (He was my comment editor.) He's intelligent, affable and has always been quick on his feet. He can write long, illuminating pieces and has mastered the fine art of the sound bite. While he may not have past political experience, he understands the dog-eat-dog world of politics and believes that average people deserve a say in helping build the city they want to see and live in.
Furey strongly supports law-and-order policies and will hire 500 more police officers to increase safety and security on Toronto's streets. He will enhance the police presence on the TTC to deal with the recent rash of violent incidents, give TTC Special Constables more tools to use, and recruit more mental health workers. Tent encampments in parks will be removed, and drug injection site staff will be required to regularly clean up any nearby parks. There will be a value-for-money audit at City Hall, hiring freezes of non-Core city staff, and he'll seek out a carbon tax rebate from Ottawa for the high price of gas at the pumps. He'll also establish the "Furey Forward" program to eliminate regulations and red tape that plague businesses of all shapes and sizes.
These are the types of forward-thinking policies that will help benefit Toronto's economy, neighbourhoods, businesses and families. Furey's fiscally prudent plan is also the perfect antidote to Chow's tax-and-spend agenda that would cripple individuals and businesses alike.
According to the most recent Forum Research poll, Furey's campaign has jumped into double digits for the first time. He's leapfrogged Bailão and Bradford and has nearly surpassed Matlow and, most importantly, Saunders. Momentum is definitely on his side, but he obviously needs to keep climbing in the polls.
I'll be voting for Furey. My hope is that many Torontonians back his impressive candidacy and strong policy plan – and put him in the mayor's chair on June 26.
Michael Taube, a Troy Media syndicated columnist and Washington Times contributor, was a speechwriter for former prime minister Stephen Harper. He holds a master's degree in comparative politics from the London School of Economics.
For interview requests, click here.
---
The opinions expressed by our columnists and contributors are theirs alone and do not inherently or expressly reflect the views of our publication.
© Troy Media
Troy Media is an editorial content provider to media outlets and its own hosted community news outlets across Canada.