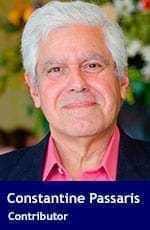 The European Union will soon select a Greek city to be the cultural capital of Europe for 2021. This prestigious designation will last for one year. The three finalists are Kalamata, Elefsina and Rhodes, but my favourite for several compelling reasons is Rhodes.
Rhodes is one of the larger Greek islands nestled in the Aegean Sea and facing the Asian continent. It has a population of slightly over 115,000. The capital city, also called Rhodes, has a population approaching 51,000, 6,000 of whom live within the walls of its medieval city.
The medieval city was designated a world heritage city by UNESCO in 1993 and included in its list of world heritage monuments in 1998. The old city, as it is popularly called, lays claim to being the only European city in continuous habitation since the medieval ages.
In Rhodes, natural beauty, a rich history, a vibrant society and a flourishing cultural scene merge to create a powerful synergy of cultural and artistic expression. It is a place where old meets new and creates a collage of aesthetic and architectural panoramas.
Rhodes was shaped by trade and conquest. Its inhabitants historically roamed the seas in search of new markets, and its wealth attracted conquerors and colonizers. As a result, its cosmopolitan population has included Greeks, Turks, Franks, Italians and British, to name but a few. During one period, Crusaders stopped on their way to and from the Holy Land.
Rhodes sits at the crossroads between Europe, Africa and Asia. In consequence, international trade was always a mainstay of the economy. In fact, Rhodes embraced globalization before the word was even coined.
Despite the severe economic recession that has gripped Greece for the last seven years, Rhodes' cultural and artistic vibrancy has not waned. The limited financial resources have motivated innovative partnerships and creative collaborations to support the arts and make the constrained municipal culture budget go further. Municipal government, private sector sponsors, public benefit foundations and non-governmental organizations have joined. One such venture places municipal facilities at the disposal of cultural associations and community organizations free for public performances.
During my stay at the International Writers Centre in Rhodes, I saw an impressive number of quality cultural and artistic events. These included spectacular folk dance, two classical music recitals, the launch of a book on Byzantine churches, theatrical performances, a series of recent movies with messages on mental health, pop music concerts, an evening of poetry, music and theatre related to the life and intellectual contributions of Spain's pre-eminent poet Federico Garcia Lorca, as well as several painting and photographic exhibits.
The Rhodian model's success in promoting a vibrant arts and culture environment is the result of a synergistic approach. Rhodes has found a way to stretch its municipal budget to fund requests for diverse and worthwhile projects. Indeed, they have circumvented financial constraints and built partnerships to ensure that the arts not only survives but thrives in an challenging economic period.
The value we place on the arts reflects our ideals as a modern civilization. The importance it places on a vibrant arts and culture scene makes Rhodes a role model. Its template for nurturing and supporting the arts should be as a blueprint for Canadian municipal governments.
Dr. Constantine Passaris is a professor of economics at the University of New Brunswick and an Onassis Foundation Fellow (Greece). He is in Greece as a visiting professor at the International Writers Centre of Rhodes.
Constantine is a Troy Media contributor. Why aren't you?
---

The views, opinions and positions expressed by columnists and contributors are the author's alone. They do not inherently or expressly reflect the views, opinions and/or positions of our publication.