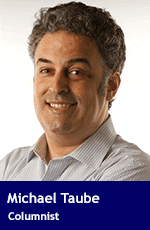 Municipal elections throughout Ontario will be held on Oct. 22. As a resident of Toronto, I'll be casting my vote for school trustee, city councillor and mayor.
With respect to the latter position, the top two candidates are John Tory and Jennifer Keesmaat.
Tory is the city's incumbent mayor. He's had a successful career as a lawyer, businessman and media personality. A former CEO of Rogers Media and Rogers Cable, he served as Canadian Football League commissioner from 1996 to 2000. He was a journalist for CFTR and CHFI (1972 to 1979), and a Newstalk 1010 radio host (2009 to 2014). 
Politics has always been Tory's first love. He was principal secretary to Ontario Premier Bill Davis. He ran in the 2003 Toronto mayoral election and lost to then-councillor David Miller. He led Ontario's Progressive Conservatives from 2005 to 2009, and was an MPP for Dufferin-Peel-Wellington-Grey from 2005-2007. He won the 2014 Toronto mayoral election over Doug Ford, who is now premier of Ontario.
Tory has a moderate, centre-right platform. He supports less government, lower taxes and more private enterprise, but also touts affordable housing and better transit (through his existing SmartTrack plan). Most polls show his popular support around 62 to 65 percent.
In contrast, Keesmaat was Toronto's chief city planner from 2012 to 2017. She worked with Tory and, while they had public policy disagreements, she praised him for a willingness to "tolerate a chief planner who didn't fit in a box." She would later become CEO of Creative Housing Society, a non-profit organization that focuses on affordable housing.
With respect to politics, Keesmaat is a relative novice. She's never run in any previous city election or under a party banner. She was briefly an executive assistant for both city Councillor Joe Mihevc and former city councillor Jane Pitfield.
Keesmaat's platform is way to the political left. She announced a rent-to-own housing plan, similar to buying TVs and furniture, to be paid for by – predictably – taxing the wealthy. She wants to lower the speed limit on city streets, which is the kiss of death in politics. She refuses to reveal her position on property tax (take a wild guess). And, just before declaring her candidacy, she floated the ludicrous idea of Toronto seceding to become a province. Most polls show her popular support around 25 to 30 percent.
Faith Goldy, a former reporter/political commentator at Sun News Network and Rebel Media, seems to be polling the highest among the other 33 mayoral candidates at around three to six percent. She's running on a small 'c' conservative platform that includes tackling crime, illegal immigration and phasing out the land transfer tax.
Goldy's reputation has been tainted due to associations with individuals linked with the alt-right and white nationalism. She hasn't been invited to debates, has been blocked from radio and TV advertising, and is generally being ignored by the media and leading candidates. While this is preposterous to see in a democracy, her campaign clearly has little to no room to grow.
Who's my choice for mayor?
Few people would have been surprised if I'd announced I was voting for Tory. But I'm going one step further and formally endorsing him, which I haven't done in quite some time.
I've known Tory for years. I like him as a person, and respect his intelligence, work ethic and ability to build political bridges with polar opposites. This has helped attract Liberals to his campaign, since you can't get elected in Toronto with Conservative support alone.
The biggest divide has always been on ideological terms, since I'm far more right-leaning than he is. I supported his mayoral run in 2003, stayed home during the 2007 Ontario election (which he lost), and voted for Ford in the 2014 mayoral election.
To his credit, Tory has kept Toronto's personal and property taxes low. He's helped attract new businesses, which means more jobs and economic opportunities. SmartTrack is being built at a decent (albeit slow) pace. He supports the one-stop extension of the Scarborough subway. He's proposed the construction of the Rail Deck Park, which could one day resemble Chicago's Millennium Park and New York's Hudson Yards.
Has he made mistakes?
Sure. Wading into the carding controversy at full tilt was unwise, and calling for a citywide gun ban was unnecessary and pointless.
But the positives far outweigh the negatives, in my view.
Tory has done an admirable job of managing the city with grace and dignity. I believe right-leaning conservatives in Toronto – and there are a few of us – should park our votes with the incumbent mayor. He deserves a second term in office.
Troy Media columnist and political commentator Michael Taube was a speechwriter for former prime minister Stephen Harper.
---

The views, opinions and positions expressed by columnists and contributors are the author's alone. They do not inherently or expressly reflect the views, opinions and/or positions of our publication.