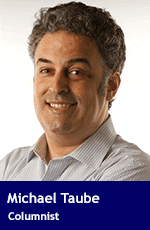 Last week's meeting between Canadian Prime Minister Justin Trudeau and U.S. President Donald Trump was a success. Relations between our two countries remains solid, thanks to the hard work of political staffers and willingness of both leaders to work together.
Yet there are often unsung heroes involved in the fine art of international diplomacy. Their direct or indirect influence can help improve situations, ease tensions and build relations between two nations.
Brian Mulroney could very well be that unsung hero.
Hold on. What role could a former Conservative prime minister have played in negotiations between a Liberal prime minister and a non-ideological Republican president?
Mulroney has known Trump for more than 25 years. In an interview with Policy Magazine for the January-February 2017 issue, he acknowledged that "what you see with Donald is what you get." He respected the fact that Trump "is a guy who basically on his own built an empire worth somewhere between $5 and $10 billion," and has five children who are "all hugely successful on their own."
In his view, "if a guy can do that, he has something going for him and if you add to that the fact that for the first time in American history a guy came in off the street with no elected experience, no service as a military general, wins the nomination against 16 other candidates, and then wins the general election against a candidate with Hillary Clinton's brand recognition, he has a lot going for him, so I think he has a good run at this to be a successful president."
Mulroney has expressed similar confidence in Trudeau. In a March 2012 CBC interview, he described him as "talented" and a "fine young man" whose "youth is an advantage."
The former PM also pointed out, "People who trivialize his achievements and hold out little hope for his prospects ought to be very careful. Life doesn't work that way. And there are always surprises in political life. And he's capable of delivering a major one if they underestimate him."
With respect to Canada-U.S. relations, Mulroney told Policy Magazine, "I think Mr. Trudeau is going to get along fine with Donald Trump … I think that while, ideologically, they can be worlds apart, there is enough success in pursuing common objectives that I think they are going to find a lot to be happy about." He said this includes the Keystone XL pipeline, infrastructure projects and the unique economic relationship of the countries.
All of this makes sense. But where does Mulroney fit into this equation?
Here's a clue. The Globe and Mail noted on Feb. 19 that Mulroney and Derek Burney, Canada's former ambassador to the U.S., "have acted as informal advisers on how to handle the Republican-led Congress and the Trump White House and cabinet secretaries." Their vast experience and knowledge in both areas were obvious assets to the Trudeau Liberals.
This arrangement has clearly succeeded. Trump reportedly told Mulroney at Mar-a-Lago, after the latter sang When Irish Eyes are Smiling at a cancer benefit, that "relationships are just great between Canada and the United States. Justin had a terrific trip down to Washington."
Hence, Mulroney likely used his association with Trump to get into the president's ear, work a little magic and ensure the first meeting with Trudeau went smoothly.
This surely helps make things easier for Canada in terms of the North American Free Trade Agreement, the successor to the 1987 Canada-U.S. Free Trade Agreement that Mulroney arranged with then-president Ronald Reagan. It hopefully prevents potential problems with the auto industry, softwood lumber and foreign policy, too.
We may never know Mulroney's exact role in the lead-up to the Trudeau-Trump meeting. Unsung heroes deserve to maintain some level of anonymity, after all – even when they sing for a president.
Michael Taube, a Troy Media syndicated columnist and Washington Times contributor, was a speechwriter for former prime minister Stephen Harper. He holds a master's degree in comparative politics from the London School of Economics.
---

The views, opinions and positions expressed by columnists and contributors are the author's alone. They do not inherently or expressly reflect the views, opinions and/or positions of our publication.