But, as Margaret Thatcher wrote, hindsight is "sadly denied to practicing politicians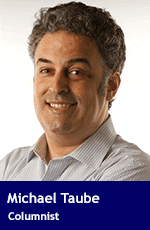 The late British Prime Minister Margaret Thatcher wrote this intriguing passage in The Downing Street Years: "The wisdom of hindsight, so useful to historians and indeed to authors of memoirs, is sadly denied to practicing politicians."
Is this a valid assessment? Let's see if we can figure it out.
Two recent and widely discussed examples involving three Canadian politicians, Alberta Premier Danielle Smith, Prime Minister Justin Trudeau and Toronto Mayor John Tory, provide insight into the power of hindsight. Analyzing these political "performances" as two "acts" in a play reveals some additional layers and unique perspectives.
Act I – The Smith-Trudeau handshake
Many columnists, political commentators and average Canadians focused on Smith and Trudeau's handshake on Feb. 7 during the First Ministers' meeting in Ottawa. The latter offered his hand to the former, who was initially hesitant to reciprocate but ultimately did.
The handshake heard 'round the nation was repeatedly described as an "awkward" moment. Social media reactions were plentiful. Some wondered if it was strategic or deliberate, considering how former Alberta premiers Rachel Notley and Jason Kenney had also taken a cautious approach in shaking Trudeau's hand. Even Smith admitted the two political leaders had "missed the landing."
Does Thatcher's comment fit this scenario?
Trudeau tends to have a firm handshake and an ultra-friendly grin. It's not dissimilar to former U.S. President Donald Trump, who would aggressively shake hands at times in a type of mental and physical tug-of-war.
No one will fault the PM for doing this since it's been a consistent trait.
Yet it does show an obliviousness to the fact that many political rivals and some political allies don't wish to reciprocate in this fashion. It creates an uncomfortable situation on a public stage, whether knowingly or unknowingly, on his part.
In hindsight, Trudeau should have used more tact and diplomacy with the handshake. Which isn't his style, truth be told.
Smith likely took a similar tact to her predecessors, Notley and Kenney, when it came to a handshake. She wanted to maintain distance between Alberta and Ottawa to ensure the former's independence was secure. At the same time, she wanted her opposition to the Liberal government's agenda to be crystal clear to the media.
That's perfectly fine from a historical and modern context.
Alas, she hesitated too long and put out a limp handshake that made her look uncomfortable, disinterested and somewhat standoffish. This briefly gave the PM the advantage in the public eye, which was exactly what she didn't want to do in front of the cameras.
In hindsight, Smith should have taken a more balanced approach with the handshake. To her credit, she turned it into a teachable moment by smiling and shaking hands with the Alberta media on Feb. 9.
Act II – John Tory's affair and impending resignation
Less than four months after winning a third term in office, Tory appears to be on the cusp of resignation.
Why? A bombshell Feb. 10 story in the Toronto Star revealed that the mayor had a multi-year affair with a young former staffer during the coronavirus pandemic. Tory has been married to his wife, Barbara Hackett, for nearly 43 years and has four children and several grandchildren.
While no law in Ontario prohibits this type of relationship in the workplace, the city council's code of conduct states that "members should perform their duties and arrange their private affairs in a manner that promotes public confidence and bears close public scrutiny."
It was an astonishing revelation. Tory had been elected in 2014 as a somewhat boring and straight as an arrow political alternative to the previous mayor, Rob Ford. Having long promoted himself as a by-the-book politician, popular radio host and family man who liked to maintain a private life, this scandal was completely off-brand.
As an experienced politician, he likely knew this would be impossible to recover from.
Tory acknowledged he had made a "serious error in judgment" and resigned within an hour of the story becoming public knowledge. He apologized to his wife and family, as well as the people of Toronto. His departure from Toronto City Hall is impending.
Does Thatcher's comment fit this scenario?
"What the heck was he thinking?" has been asked by many people, and understandably so. Tory had witnessed the downfall of several politicians in recent years due to similar scandals. Why he thought he would be different in this respect remains unclear, or if he even thought this at all. Meanwhile, the affair reportedly ended just this year, and it was revealed he had already assembled a team of political experts and ex-staffers to handle damage control.
That's why the Toronto Mayor had a media statement in hand at a hastily-arranged press conference. He clearly knew what was coming.
In hindsight, Tory should have known better than to engage in this sort of illicit activity. At the very least, he shouldn't have run for a third term with this type of personal baggage dragging behind him.
As the curtain closes, Thatcher's statement about hindsight and practising politicians appears valid in certain instances and less so in others. There certainly seems to be merit to it in the Great White North, anyway.
Michael Taube, a Troy Media syndicated columnist and Washington Times contributor, was a speechwriter for former prime minister Stephen Harper. He holds a master's degree in comparative politics from the London School of Economics.
For interview requests, click here.
---
The opinions expressed by our columnists and contributors are theirs alone and do not inherently or expressly reflect the views of our publication.
© Troy Media
Troy Media is an editorial content provider to media outlets and its own hosted community news outlets across Canada.