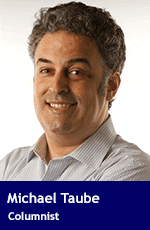 The political left occasionally focuses its political radar on the rather tiresome issue of sports teams' nicknames. The newest target is the Cleveland Indians – and it's happening in Canada, of all places.
The Indians and Toronto Blue Jays are facing off in the American League Championship Series. Hours before the third game was played in Toronto on Monday, Ontario's Superior Court of Justice had to deal with an Oct. 14 application filed by architect Douglas Cardinal.
A Native Canadian activist of Blackfoot descent, Cardinal believes that Cleveland's team name and its old mascot, Chief Wahoo, are racist and discriminatory. According to an Oct. 17 Canadian Press interview with his spokesman, Joe Householder, an injunction has been filed "to stop the use of the logo and the name tonight in the game and in the games going forward." The court rejected the request late Monday.
Alas, this isn't the first time anyone has been miffed at Cleveland's team nickname and logo. Various individuals and groups, including Native American bands, have criticized these branding concepts for decades. None of the challenges has been successful.
There have also been campaigns against other professional teams in baseball (Atlanta Braves), hockey (Chicago Blackhawks), basketball (Buffalo Braves, Golden State Warriors, Atlanta Hawks) and football (NFL's Kansas City Chiefs, CFL's Edmonton Eskimos). The same goes for nicknames of several university, high school and youth league teams.
The most notable attempt to change a team's nickname has been against the NFL's Washington Redskins.
On two occasions (1999 and 2014), the U.S. Patent and Trademark Office had to forcibly intervene in this discussion. There's been some speculation that the two U.S. presidents in office during the trademark disputes, Bill Clinton and Barack Obama, were directly or indirectly involved – although the connection has never been proven.
Regardless, these two interventions never made sense. This nickname has been an important part of the storied football team's legacy and history. In my view, a "Redskin" symbolizes the positive virtues of strength, courage, and a warrior-like spirit on the gridiron. They've used it successfully for more than 80 years, leading to 23 playoff appearances, two NFL championships and three Super Bowl victories.
The Cleveland Indians, on the other hand, have had a fair amount of ups and downs since the team was founded in 1894. They've won eight Central Division titles and five American League pennants, but have only captured two World Series (1920, 1948) and lost three others (1954, 1995, 1997).
The team has made some concessions. Chief Wahoo was removed from the road cap in 2011, followed by the home batting helmet two years later. Indians owner Paul Dolan told the Cleveland Plains Dealer in April that the once-popular logo's use would be further reduced. (It now only appears on the team's jersey sleeves.)
At the same time, Dolan noted that while the Indians franchise has "empathy for those who take issue" with its use, there were "no plans to get rid of Chief Wahoo, it is part of our history and legacy."
He's right. This historic logo doesn't have to be completely retired because some people are overly sensitive about what it may, or may not, represent. It should always be up to the team owner(s) to make decisions about branding, and no one else.
It is not relevant that Cardinal is bothered by the Indians nickname and team logo. He doesn't own the team, and this injunction is little more than a publicity stunt to attract attention to a cause that very people truly care about.
A court of law has much better things to do than waste valuable time and resources on these types of frivolous matters.
Michael Taube, a Troy Media syndicated columnist and Washington Times contributor, was a speechwriter for former prime minister Stephen Harper. He holds a master's degree in comparative politics from the London School of Economics.
---

The views, opinions and positions expressed by columnists and contributors are the author's alone. They do not inherently or expressly reflect the views, opinions and/or positions of our publication.