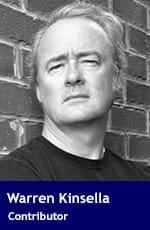 Spring 2009: the tulips were blooming, the birds were chirping and Ottawa was buzzing about the prospects of Prime Minister Michael Ignatieff.
The polls looked good. The pundits were saying nice things. Stephen Harper's Conservative regime was slipping.
Liberals were accordingly feeling optimistic, so they threw a little party. Staff moved the long tables out of the boardroom in Centre Block's Room 409-S, and caucus and staff were invited to pop by for a drink. A smiling Ignatieff worked the room, clapping Liberal MPs on the back and listening attentively to staffers.
He approached me, by one of the windows overlooking Centre Block's lawn. "You look unhappy!" Ignatieff said.
"Happiness is a trick," I said to the Liberal leader, which made him laugh. I paused. "The Tories have been too quiet about you. I don't like it."
"Stop worrying so much," Ignatieff said, smiling, and then moved away to chat with others.
It was his party, in more ways than one, so I didn't try to spoil it on that sunny day. I was a bit of an outsider, a hired gun, so I didn't then tell Ignatieff what I had been told by Conservative friends earlier: that they were getting ready to spend millions on an ad buy to define Ignatieff before he could define himself. They were going to say he was an interloper, a foreigner. They were going to say – over and over, everywhere – that he was "just visiting."
When I briefed Ignatieff later – with his worried chief of staff, Ian Davey, listening – he was dismissive. "A million Canadians live and work outside of Canada," he said, irritated.
"None of them are running to be prime minister," I said, as Davey nodded. "Lots of people think that anyone who wants to run a country should live in that country, you know."
Ignatieff didn't buy it. It won't work, he said.
It did.
The Conservatives' Just Visiting campaign was arguably the most effective political ad campaign in modern Canadian history. I can't think of another that has worked nearly as well. Just Visiting indelibly branded the acclaimed Harvard intellectual as an effete, out-of-touch tourist to Canada. It destroyed him and the once-great Liberal Party of Canada, reducing it to third place, a rump in the House of Commons.
You know where this is going, perhaps. It's astonishing – beyond belief – that the once-great Conservative Party of Canada is now embracing Kevin O'Leary, another Boston resident. Another interloper. Another guy just visiting.
The evidence that O'Leary is just visiting Canada, you see, is indisputable:
There have been 11 Conservative leadership debates since early November. O'Leary has shown up for only three, claiming he had business to attend to in the U.S.

On his own reality TV show and in interviews with U.S. media, O'Leary has clearly stated that "Boston is home."

O'Leary has lived in Boston for a generation and he won't commit to living in Canada – even if he wins the party leadership.

Before his leadership bid, his LinkedIn page listed Boston as his home. Before that, it was Palm Beach. Now, he claims it's Toronto.
Forget that O'Leary – like that other reality TV star, Donald Trump – isn't really a conservative and is all over the map ideologically. Forget that – like Trump – O'Leary is a vulgarian and a creep, grabbing women, mocking women, dismissing women. Forget that he is – as the National Post's Andrew Coyne called him – "a clown," a caricature who has never held political office and who doesn't have a single coherent policy. Forget that he doesn't speak a word of French. Forget about all that.
Kevin O'Leary is the Conservative Michael Ignatieff. If mass delusional psychosis continues to beset paid-up Conservative members, and if they actually select O'Leary to lead them, the attack ads practically write themselves. Just Photoshop O'Leary's shining pate over Ignatieff's face and run those Conservative Party ads all over again. They'll work.
O'Leary, like Ignatieff, is just visiting Canada. As leader, he would lead the Conservatives to its greatest defeat since 1993 – ironically, the very year O'Leary commenced his move to Boston, Mass.
Oh, and Team O'Leary? Ignatieff at least had the intelligence to move back to Canada before offering himself as its leader.
Still didn't work.
Warren Kinsella is a Canadian journalist, political adviser and commentator.
Warren is a Troy Media contributor. Why aren't you?
---

The views, opinions and positions expressed by columnists and contributors are the author's alone. They do not inherently or expressly reflect the views, opinions and/or positions of our publication.