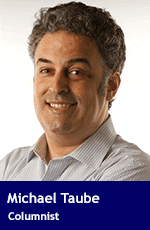 Thanks, Meryl Streep. Your speech at last Sunday's 74th Golden Globe Awards provided another reason why most conservatives dislike Hollywood.
After receiving the Cecil B. DeMille Award for lifetime achievement, the talented actress used the forum to express her views on politics and the arts.
Many liberals (and a few conservatives) praised Streep's comments. They admired her analysis of the political landscape. They appreciated her viewpoint about the lack of respect for the arts community and its distinctly international flavour. They loved the fact that she criticized U.S. president-elect Donald Trump without ever naming him.
In turn, many critics launched into personal diatribes and ad hominem attacks after Streep's speech. Emotion, rather than intelligence, ruled social media on Sunday night.
I thought that Streep's speech was poorly thought out. While I don't expect much from the voluminous echo chamber that contains most of Tinseltown's elite, this politically-charged message deserves to be critiqued.
First, it was an awards show, not a political convention.
This has happened at other awards shows. But most people didn't tune in to listen to Streep's political sermon. It's much the same as when vice-president-elect Mike Pence was disgracefully singled out by the cast of the Broadway musical Hamilton in November. It makes some people feel uncomfortable, puts a damper on a fun evening and there's absolutely no justification for doing this.
Second, while Streep deserves credit for acknowledging her partisan leanings in the past (she proudly describes herself as part of "the Left"), it's a major reason why she shouldn't have spoken out.
She targeted a politician she doesn't like – and one she actively campaigned against in last year's presidential election. Streep spoke at the 2016 Democratic National Convention in support of presidential nominee Hillary Clinton, in prime-time just after the second night's headliner, former president Bill Clinton.
Hence, the Golden Globes speech just made her look like a sore loser.
Third, Trump's imitation of handicapped New York Times reporter Serge Kovaleski – which he constantly denies, but the video coverage disputes – was disgusting. No question about it. But most people have moved on and really don't care about it anymore.
Streep claims it still bothers her and that Trump's actions apparently made it acceptable for others to do it. That's a preposterous and completely inaccurate line that many left-wingers have drawn in recent months.
It makes me wonder about her focus, ideas and thoughts. There are more important things to worry about – and not all of them relate to the Trump presidency.
Fourth, the decision against naming the president-elect in her speech doesn't make Streep a classy hero.
Silence isn't golden in this case. Rather, it has the bitter taste of pewter because she helped perpetuate the image that Hollywood is left-wing, insular, pompous and out of touch with Middle America. Whether Streep likes it or not, this group helps provide the income and comfort level that she (and other performers) enjoy. If she believes in public relations, she should start thinking about her words and actions a bit more.
Fifth, the sacred game of football didn't have to be included in this discussion. You have no obligation to watch this great sport, Meryl. In fact, millions of football fans (and mixed martial arts fans, who you also went after) are probably glad that you don't.
Will someone copycat Streep's speech at the Screen Actors Guild Awards (Jan. 29) or the Academy Awards (Feb. 26)?
I wouldn't bet the farm against it. But I would bet such a speech will do nothing but drive a wedge further between conservatives and Hollywood. 
Michael Taube, a Troy Media syndicated columnist and Washington Times contributor, was a speechwriter for former prime minister Stephen Harper. He holds a master's degree in comparative politics from the London School of Economics.
---

The views, opinions and positions expressed by columnists and contributors are the author's alone. They do not inherently or expressly reflect the views, opinions and/or positions of our publication.