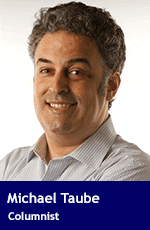 You'll find my endorsement for the next leader of the Conservative Party of Canada at the end of this column.
However, I can't stress enough how close I came to selecting no one.
Late last year, I announced I would endorse one of the 14 Tory leadership candidates in early 2017. Although I've not held a party card in years, it's no secret that I support the Conservatives. My long-standing role as a right-leaning political pundit, as well as being a former Stephen Harper speechwriter, makes my choice, to some extent, relevant.
There were party activists (and others) who privately didn't understand why I was taking my sweet time making a decision. Was I stalling, waiting for someone to push ahead so I didn't look terribly foolish?
No, not at all.
To put it bluntly, I wasn't overly impressed by any of the candidates.
It's not that there aren't bright, capable people running for this position. There are. Unfortunately, none of them have produced exceptional policy platforms, or possess the fundamental leadership qualities, to inspire a nation of people to vote for them.
Not at present, anyway.
So it would have been easier for me to write that no Tory candidate was ready to walk in Harper's large footsteps, choose none of the above and wish the party well.
That's not the approach I wanted to take. I like to be a man of my word and I preferred to formally endorse someone.
So I tweaked my criteria. Usually, it's a combination of who is ready for the role and who has the best chance to grow into this important position over the next one or two federal elections. For this leadership race, the second component would be the only thing that mattered to me.
With this in mind, here are my thoughts:
Several leadership candidates, including Kellie Leitch and Kevin O'Leary, aren't suitable for this position. Both have, or had, talented people working for them behind the scenes. But as I've written and said in the past, these two could cause huge problems in terms of promoting small "c" conservative values – and the perception of inclusiveness in the party and country.
The Tories are obviously free to pick them. That being said, the risks seem much greater than the rewards.
I also wouldn't immediately coalesce around either Leitch or O'Leary as the next federal Tory leader.
This doesn't mean I'm going to abandon the Tories and/or the Canadian conservative political movement. I only vote for right-leaning parties, leaders and politicians.
It also doesn't mean that I wouldn't support their leadership at a later date, either. But based on my repeated criticism of both, I wouldn't join in on the celebration anytime soon.
And a word of warning to Tory grassroots members: more than a few Canadian conservatives seem to feel the same way. I'd choose wisely.
If the federal Tories opt for one of Maxime Bernier, Lisa Raitt or Andrew Scheer, they'll be on a respectable path to eventually defeat Prime Minister Justin Trudeau and the Liberals. It may take some time, but all three have the intelligence, gravitas and ability to become a national leader and gradually re-energize the Tory base.
There can only be one endorsement, however.
My choice is Scheer.
The 37-year-old Tory MP has represented the riding of Regina-Qu'Appelle since 2004. He's served as Opposition House leader (under interim Conservative Leader Rona Ambrose), deputy Speaker of the House, and Speaker of the House. He's bilingual, experienced, a thoughtful speaker and thinker, and a political bridge-builder by nature.
That's the political direction I recommend for the Tories moving forward. While it's not exactly a ringing endorsement, it's certainly a hopeful one.
Michael Taube, a Troy Media syndicated columnist and Washington Times contributor, was a speechwriter for former prime minister Stephen Harper. He holds a master's degree in comparative politics from the London School of Economics.
---

The views, opinions and positions expressed by columnists and contributors are the author's alone. They do not inherently or expressly reflect the views, opinions and/or positions of our publication.