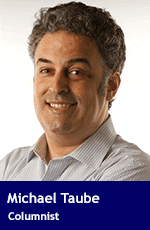 If you've been around politics for a spell, the name Myron Thompson will be permanently etched in your memory banks. He was a unique figure in Canadian politics, the likes of which we likely won't see grace the hallowed halls of Parliament anytime soon.
Thompson, who served as a Reform Party, Canadian Alliance and Conservative MP from 1993 to 2008, passed away on Jan. 6 after a year-long battle with cancer. He was 82.
Born in Monte Vista, Colo., in 1936, his first love was baseball. He reportedly tried out for the New York Yankees as a catcher at the tender age of 19, but didn't make the team. He ultimately graduated with a BA in business administration and education from Colorado's Adams State College, and served in the U.S. Army for two years.
Thompson moved to Sundre, Alta., with his wife, Dot, in 1968. According to a Nov. 7, 2017, interview with Sundre Roundup's Simon Ducatel, their plan was to stay there for only a year. "The rest speaks for itself," he said. He became a Canadian citizen in 1974.
He was a high school teacher and school principal for roughly 28 years. He also spent three years as a town councillor and served as Sundre's mayor from 1974 to 1980.
Things changed for Thompson in the late 1980s when he heard Preston Manning speak at an event. He was intrigued with the idea of a western-based Reform Party and movement, and joined the effort.
Thompson was first elected in 1993 in the federal riding of Wild Rose. He obliterated Louise Feltham, the sitting Progressive Conservative MP, and won 63.4 percent of the vote (she finished second with 15.4 percent). It was a safe small "c" conservative riding and he never came close to losing an election. In fact, his first win in Wild Rose would end up being his worst result.
Thompson would never hold a cabinet post. He sat on House of Commons committees, served as an opposition critic, and caught the Liberals red-handed with wasted taxpayer dollars on government jets. But that's as far as he would go.
Why?
He wasn't a professional politician. Rather, he was a plain-talking individual who wore a cowboy hat, refused to succumb to certain political norms, rejected political correctness and spoke without a filter.
The Calgary Herald's Sammy Hudes wrote on Jan. 6: "Thompson served as an unabashed social conservative, advocating for capital punishment, supporting the U.S.-led war with Iraq and fighting for tougher child pornography laws."
But that's not all.
There was a resolution in Reform's early days opposing legalization of homosexuality. Here's what Thompson told the audience: "I do not hate homosexuals; I hate homosexuality." As Tom Flanagan wrote in his book Waiting for the Wave (1995), "The old religious adage, 'hate the sin and love the sinner,' may be valid in its own sphere; but in the political realm it is the language of zealotry, not of prudence and moderation."
When asked by reporters about his definition of marriage, Thompson unequivocally said, "Grandfather, grandmother, mother, father, kids, mother-kids, father-kids. Adam and Eve. Not Adam and Steve."
And this is what fellow parliamentarians heard when he announced his impending retirement in 2007: "There are two things I don't apologize for. One is for being an old Reformer, and the other is for being an old Christian."
He certainly had unique views. Yet it was difficult not to respect Thompson's courage of conviction – and the man himself. I always remember him being friendly and gracious when we spoke in Ottawa and at political conferences, and he never made anyone feel ill at ease.
Here's what his grandson, Jeremy, wrote about him on Twitter on Jan. 6: "One of my favourite things about my grandfather was the fact that we disagreed on SO MUCH politically, but he always let me talk. He had years of experience and taught me so much but he was never afraid to sit down and appreciate perspective, even as stubborn as he was."
It's a trait I've seen in other unconventional politicians, including Peter Kormos, Bill Murdoch and my late friend Chris Stockwell. They march to the beat of their own drum but they're happy to let the drum beat just as loudly for others.
Thanks for making Canadian politics interesting, Myron. Rest in peace.
Troy Media columnist and political commentator Michael Taube was a speechwriter for former prime minister Stephen Harper.
---

The views, opinions and positions expressed by columnists and contributors are the author's alone. They do not inherently or expressly reflect the views, opinions and/or positions of our publication.