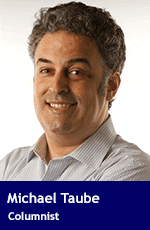 In only a couple of minutes, Jagmeet Singh showed why he's not going to last in federal politics.
The federal NDP leader had an interview on CTV's Question Period with host Evan Solomon on Sunday. Near the end of their discussion, Solomon asked him about a Jan. 9 Hill Times opinion piece written by Lu Shaye, China's ambassador to Canada. The piece alleges the recent arrest of Huawei Technologies CFO Meng Wanzhou was related to "western egotism and white supremacy."
This is a tailor-made question. Even if Singh hadn't seen this op-ed and/or heard this comment, there were many ways to shift the conversation.
China has a notoriously poor record when it comes to human rights, freedom of speech and free elections. Canadians are detained in China, and there have been reports this has been going on for years. Huawei's close ties with China's communist government has heightened concerns that its 5G network could infringe upon our nation's safety and security.
In addition, Prime Minister Justin Trudeau has said very little about the Huawei and detainee controversies.
Solomon's question was the equivalent of a softball. What did Singh do with this big, fat pitch?
He whiffed at it.
"Sorry, who, uh, who accused who of white supremacy?"
That was the starting point of Singh's disastrous performance and it only got worse.
After the CTV host repeated the question with additional facts, the NDP leader bizarrely responded, "I don't know if there is any evidence of that suggestion," and proceeded to condemn U.S. President Donald Trump's relationship with China.
What did this question have to do with Trump?
Absolutely nothing.
"I know you're criticizing the Trump administration," Solomon said, "but China has detained two Canadians, I just wonder if you've got your eye on the ball here."
Singh, who was now completely flustered, said, "right … right, so with China's detention of Canadians that is deeply concerning. We need to make sure that anyone being detained, it's being done in the appropriate manner, it's being done in the right manner, there is full due process, laws are being followed."
I'll spare you the rest of this torturous experience. Suffice to say, Singh couldn't answer the question and had nothing to offer except blank stares and boilerplate language.
Hours after the interview was conducted, the NDP leader told the Toronto Star, "I didn't hear what he had said … and once given the question, I responded. Yes, I was aware. … I expressed that there is a deep concern on the part of Canada for people being detained."
That's not even slightly believable.
If this had been the reason, Singh would have answered Solomon's question differently and/or complained to CTV immediately. (To date, neither he nor his team have done so.) Hence, this is nothing more than damage control – and it's not mitigating the damage whatsoever.
Should we be surprised?
After all, Singh was caught with his pants down at a media scrum in the House of Commons last April. He was asked whether NDP MPs were onside with his position in support of Bill C-71, the Liberal government's defence of gun control. Some of his MPs, including Niki Ashton and Nathan Cullen, had voted to scrap the federal long-gun registry.
"Give me a moment," Singh said, then turned away from the cameras to NDP parliamentary leader Guy Caron, had a short conversation and returned with the statement, "So yes, right now our caucus is in support of this bill."
The real kicker?
He was in the House during the entire debate and should have known exactly where his own party stood!
That's the problem. Singh is supposed to be fundamentally aware of these issues, and his staff is supposed to make him aware of potential media questions and issues of the day. This is part of his job and he's failing miserably at it.
The NDP should be very embarrassed with their leader. I wonder how many party supporters are privately hoping he loses next month's Burnaby South byelection and leaves the federal political scene altogether.
Troy Media columnist and political commentator Michael Taube was a speechwriter for former prime minister Stephen Harper.
---

The views, opinions and positions expressed by columnists and contributors are the author's alone. They do not inherently or expressly reflect the views, opinions and/or positions of our publication.