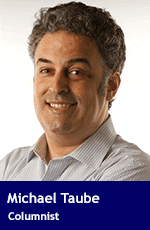 Is he in? Is he out?
Welcome to another roller-coaster ride in the Ontario PC Party, courtesy of former leader turned leadership candidate Patrick Brown. Or, as some of us like to call it, "Monday."
After several polls indicated Brown was either ahead or slightly behind in the Progressive Conservative leadership race, news broke that he was considering dropping out.
Hold on. The same person who resigned on Jan. 25 after CTV News reported two allegations of sexual misconduct, who went into seclusion for a few weeks, started rebuilding his shattered public image when important details in CTV's story began to unravel, improved his standing during a Global News interview, re-entered the leadership race on the final day (Feb. 16), and was officially green-lit five days later?
Yes, indeed.
First came the unconfirmed report from media outlets, and individuals like the National Post's John Ivison, that Brown was "seriously considering" pulling out.
However, according to his spokesperson, Alise Mills, the family had dealt with personal attacks but he "has not stepped down" and "[i]t's up to the media to end the speculation that they've stirred up."
That news was followed by information from TVO host (and, more recently, social media doyen) Steve Paikin. He wrote that Brown was "considering dropping out" after a late-night organizational phone call on Feb. 25, expressing "frustration at the constant attacks on his friends/family" and his mother having "been hospitalized."
But hold on: Paikin tweeted a few minutes later that Brown's campaign had officially said, "there is no resignation, no withdrawal, we're just dealing with the constant attacks."
What on earth was going on?
This was followed by the Toronto Star's Robert Benzie. He wrote about a May 2 email exchange between Brown, then-PC executive director Bob Stanley and then-PC president Rick Dykstra related to a Hamilton West-Ancaster-Dundas nomination meeting. The former PC leader reportedly wrote, "Let them all fight it out. And get me the result I want. But no disqualifications here. Kitchen is too hot." (Hamilton police are investigating this bombshell allegation.)
From there, it turned into an even bigger political typhoon.
News organizations produced varying accounts of 'Yes, he's staying in' and 'No, he's leaving the race.'
CBC's Mike Crawley and Meaghan Fitzpatrick attempted to create direction for this rudderless story. Paikin tweeted two hours later that Brown would be dropping out after all. The Toronto Sun's Antonella Artuso and James Wallace quoted a source who said, "It certainly looks like he's stepping down."
Even J. David Wake, Ontario's integrity commissioner, stepped into this pit of snakes by announcing he would investigate PC MPP Randy Hillier's complaint against Brown for supposed financial irregularities.
Hence, Brown went from being a politician who few knew about to a politician who few wanted to hear about again!
The media circus came to a screeching halt when Mills issued this tweet: "Statement from Patrick Brown to follow shortly."
Everyone waited. Within two hours, she tweeted that his statement would be issued "after meeting with his campaign staff later today."
More waiting.
Finally, the announcement arrived. Brown was dropping out to concentrate on three things: "holding CTV accountable," "focus on policy" and "protecting family and friends."
Having watched, observed and commentated on Canadian politics for two decades, I can honestly say this whole episode has been one of the most bizarre things I've ever seen. Brown's decision to drop out was the icing on the cake.
Maybe it's all for the best. Too many dark clouds of controversy swirl above Brown's head. The remaining leadership candidates – Christine Elliott, Doug Ford, Tanya Granic Allen and Caroline Mulroney – can all legitimately claim they'll put a fresh coat of paint on the old, tired Big Blue Machine.
Is this Brown's last stand?
Maybe, unless the political rodeo decides the bucking bronco deserves on more chance at glory.
Michael Taube, a Troy Media syndicated columnist and Washington Times contributor, was a speechwriter for former prime minister Stephen Harper. He holds a master's degree in comparative politics from the London School of Economics.
For interview requests, click here. You must be a Troy Media Marketplace media subscriber to access our Sourcebook.
---

The views, opinions and positions expressed by columnists and contributors are the author's alone. They do not inherently or expressly reflect the views, opinions and/or positions of our publication.