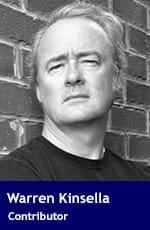 Conservative MP Lisa Raitt appears ready to become a party leadership candidate, despite real political and personal challenges. And that's good news for the party.
Raitt's husband recently received an Alzheimer's diagnosis. And Raitt, an eight-year Toronto-region member of Parliament originally from Cape Breton, needs to work on her French-language skills.
But the former Conservative minister and then finance critic (she just left her shadow cabinet post to focus on a leadership candidate bid) has what it takes to lead the party.
In fact, she will automatically be seen as the frontrunner.
I got to know her when she ran the Toronto Port Authority and I was hired to give them some communications advice. I discovered that she is an amazing person. I encouraged her to seek election, and told her all of the parties would want to recruit her (and all of them did).
I haven't recently talked to Raitt about her big decision. But I suspect I know at least one of the reasons she's apparently doing it: she has surveyed the parade of mostly nobodies running and figured she could do a lot better. She's right. (I hasten to add that Michael Chong isn't a nobody, because he is also one of the few who could seriously challenge Liberal Prime Minister Justin Trudeau, come next election.)
To beat Trudeau is not to ape Trudeau. He will always be better at being him than someone else. What the Conservatives need, instead, is a candidate who addresses Trudeau's weaknesses and provides a clear remedy or alternative. Here are three key areas:
Serious
One criticism of Trudeau is that he's all sizzle and no steak. I don't share that view but it's out there. The selfies and the seeming solipsism haven't helped – they send bureaucratic eyeballs rolling, every time.
What the Conservatives need, then, is someone who can be serious when the circumstances require it but still know how to laugh. Raitt is like that.
Different
Raitt is different from Trudeau in three important ways:
Trudeau was born and raised in Central Canada, in the Montreal-Ottawa-Toronto corridor of power; the Tories need someone from outside all of that. Raitt is.
Trudeau is a decidedly a man, and Hillary Clinton's American presidential campaign (and Donald Trump's misogyny and sexism) have made this uniquely a time for strong, smart women to seize the top jobs in politics. Raitt is that.
Trudeau has moved his party to the left of what it was under John Turner, Jean Chretien and Paul Martin. That arguably leaves the centre/centre-right unattended, and a piece of real estate ripe for a progressive conservative.
Raitt is different from Trudeau in all those ways: she's a Cape Bretoner and therefore the ultimate outsider; a smart, capable woman who has held senior cabinet posts; and a centrist who maintained her progressive credentials even in the Stephen Harper era.
Modest
Not even a year into the mandate, that unhelpful old Liberal trait – 'entitled to entitlements' – seems to be back. It killed the party in 1984 and 2005, and it could do it again.
To those who say Trudeau is automatically guaranteed another majority or two, I remind them that Trudeau's dad Pierre got a big majority, too, in 1968 – and then blew it in 1972. So even men with the surname Trudeau can lose if they get too cocky.
Raitt did not get involved in politics to get rich. She has kept her feet on the ground.
That all said, those two challenges listed above – her husband's illness and her French language deficiency – are big.
Can she surmount them?
If she can, she is the candidate to beat. I don't know if the Conservatives are smart enough to pick her, but they're pretty dumb if they don't.
Warren Kinsella is a Canadian journalist, political adviser and commentator.
Warren is a Troy Media contributor. Why aren't you?
---

The views, opinions and positions expressed by columnists and contributors are the author's alone. They do not inherently or expressly reflect the views, opinions and/or positions of our publication.