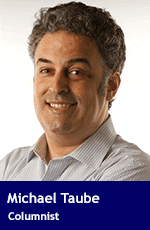 Did ABC make a mistake last month in cancelling Roseanne?
Few people would disagree that lead star/co-executive producer Roseanne Barr's May 29 tweet about former White House adviser Valerie Jarrett ("Muslim brotherhood & planet of the apes had a baby = vj") was incredibly offensive.
Yet many don't understand why the show's entire cast and crew had to pay the piper for one individual's mistake.
Indeed, there's an argument to be made that Roseanne (the series) should have been allowed to continue long after Roseanne (the actress) apologized for her ill-advised remark.
ABC surely knew what they were getting into when Roseanne, which originally ran from 1988 to 1997, was rebooted this season. Barr is a talented, albeit highly controversial, comedian who speaks her mind in an unfiltered manner. Her Twitter account has been used for years, in fact, to make her views known about everything from politics to Hollywood celebrities.
Meanwhile, Barr's political transformation has been nothing short of stunning.
She ran for the 2012 Green Party presidential nomination (losing to Jill Stein), and later won the presidential nomination of the fringe left-wing Peace and Freedom Party (anti-war activist Cindy Sheehan was her running mate). She finished in sixth place with 67,326 votes, or 0.05 percent of the popular vote.
Four years later, she surprisingly became – and remains – one of Hollywood's biggest supporters of President Donald Trump.
This was part of the appeal in bringing back Roseanne. The show earned many accolades during its first run, won four Emmy awards and still had a strong following in syndication. But the opportunity to capture two unique demographic groups, Trump supporters and loyal Republicans, was rather enticing.
No one could have expected this much success from the nine-episode reboot, however.
The March 27 debut had a mind-boggling audience of 27.26 million viewers. It received significant media attention, and was praised by Trump for its positive portrayal of Middle America and his presidency.
Although the viewing numbers gradually dropped, the show finished in third place in the Nielsen Ratings in the important 18-to-49 demographic. It was renewed for an 11th season and was thought to be an Emmy contender. Had Barr never sent out that horrible tweet (which she later apologized for), the world seemed to be her oyster.
That's where this story gets a little dicey.
ABC Entertainment president Channing Dungey's position that "Roseanne's Twitter statement is abhorrent, repugnant and inconsistent with our values" was understandable. There was no defence for what Barr did, even if it had something to do with the drug Ambien. But pulling the plug on a successful product in a mad dash to curry favour in a politically-correct environment has become all too common today.
There were other ways to handle this situation. Senior TV executives could have hauled Barr into their offices and had it out in private. They could have considered temporarily suspending the actress. A meeting between Barr and Jarrett could have been set up to find common ground.
Failing this, ABC could have fired Barr and continued Roseanne without her as an on-screen character. (She would have remained an executive producer behind the scenes.)
It's been done with other TV shows. Valerie became The Hogan Family after lead actress Valerie Harper quit after the second season following a dispute with producers. Two and a Half Men's co-star Charlie Sheen was famously fired and replaced by Ashton Kutcher in the ninth season. Transparent has continued in spite of lead actor Jeffrey Tambor's firing in February due to sexual harassment allegations.
Could the show have survived without Barr?
It's possible.
Instead, ABC opened up a hornet's nest with Roseanne's newfound audience. Barr, who was initially embarrassed by this controversy, has regained her confidence and fiery mannerisms. Her cancelled show could now find a new home on a small cable network (perhaps with a new cast), which would reap huge financial rewards and tons of media publicity.
ABC made a huge strategic mistake in cancelling Roseanne and it could make Barr an even stronger force in the entertainment industry.
Troy Media columnist and political commentator Michael Taube was a speechwriter for former prime minister Stephen Harper.
---

The views, opinions and positions expressed by columnists and contributors are the author's alone. They do not inherently or expressly reflect the views, opinions and/or positions of our publication.