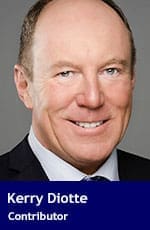 My dad, Anthony "Tony" Diotte was a locomotive engineer at Algoma Steel in Sault Ste. Marie, Ont., a long-time executive for his United Transportation Union local as well as a staunch supporter of the NDP until his death in 1994.
But I can guarantee you my father would not vote for the federal NDP today.
Dad was a meat and potatoes NDPer who wanted his party to stand up for the working man by fighting to help create an environment for good paying jobs. My dad wasn't big on his party wading into other political and politically correct causes, especially any that imperilled blue collar jobs.
Ever since its national convention in Edmonton in 2016, the national NDP has taken a decidedly  hard turn to the left, especially when it comes to its strong stance against Alberta's lifeblood, the oil and gas industry.
During that convention, the NDP was essentially taken over by a radical element. It pulled out the knives and plunged them deftly into the back of then-NDP leader Thomas Mulcair who, for a time in 2015, was touted in opinion polls to become Canada's next prime minister.
Mulcair had proven himself one of the best orators in Parliament, an especially masterful inquisitor during Question Period and a moderate leader who, in the 2015 campaign, vowed to balance the budget if elected prime minister.
But that coup d'état, getting rid of Mulcair as leader, combined with a push toward adopting the Leap Manifesto, essentially jettisoned any chance the NDP in its current form will ever be elected to govern the nation. To the uninitiated, the Leap Manifesto essentially calls for an end to the use of fossil fuels and a radical restructuring of the Canadian economy.
The NDP has never officially adopted the controversial Leap Manifesto as party policy, but it essentially touts its ideals and is promoted by current leader Jagmeet Singh.
A May 14, 2019 Toronto Star story summed this up succinctly with the bold headline: "Jagmeet Singh's call for fossil fuels ban leapfrogs the Leap Manifesto."
"The future of our country cannot involve fracking," Singh told the Star, referring to a method of drilling for oil and natural gas. "It cannot involve the burning of any fossil fuel," he said.
He also told the newspaper that he now opposes ambitious plans by British Columbia's NDP government to build a massive liquefied natural gas project in the province's north.
Canada was built on its natural resources. Scores of other countries around the world would kill to have as many energy resources as Canada enjoys. And yet someone like Singh, who wants to be prime minister, says we should leave those rich oil and gas resources in the ground? Incredible.
The oil and gas industry injects a whopping $70 billion annually into Alberta's GDP alone. Yet Singh and his NDP brethren want to stomp that out.
Singh and the federal NDP says it's in favour of a national carbon tax. It's opposed to new pipelines or to pipeline expansion. It's opposed also to Alberta's oilsands and figures we shouldn't be burning fossil fuels in Canada at all.
Those kinds of radical views place Singh far offside the views of most reasonable Canadians, even former Alberta Premier and NDP Leader Rachel Notley, who has told media she will not campaign with the federal leader.
Yet, despite his threats to shut-down-the-oil-and-gas-industry, the federal NDP is still, for reasons that boggle the mind, competitive in some ridings in resource-rich Alberta and Saskatchewan, including in my riding of Edmonton Griesbach. While it's trailing the Conservative vote, it is well ahead of the governing Liberals. In Edmonton Strathcona, the anti oil-and-gas NDP is still fairly close behind the Conservatives.
In Alberta? People supporting the federal NDP?
While I was doorknocking recently in Edmonton Griesbach, a man told me he was an unemployed pipefitter who'd worked in the oil patch and still intended to vote NDP in the Oct. 21 federal election.
To that I said, in exasperation: "But the federal NDP is opposed to new pipelines, wants to shut down the oil sands and they're even against the big LNG plant in British Columbia."
He said he'd not heard that, then shrugged and said, "yeah but they've got other good ideas."
How the NDP can still be competitive in oil-and-gas rich provinces like Alberta and Saskatchewan when it is devoutly anti-energy is beyond me.
Nationally, they're in deep trouble, polling in the low two digits, only a couple of points ahead of the surging Green party. They're in grave trouble, especially in Quebec where some NDP MPs, elected in 2015, are in fourth place right now according to opinion polls.
This likely illustrates what happens when political parties abandon all attempt to be at least somewhat centrist.
Should these opinion poll results play out Oct. 21, it's sure to spark even more blood-letting in the NDP from party members who dream of one day actually governing the country. Then the knives will be out once again. But this time they'll be out for Jagmeet Singh.
One thing is patently obvious. Under the current leader, this is not my father's NDP.
Kerry Diotte is seeking re-election as the Conservative candidate in Edmonton Griesbach. He's a former journalist and city councillor. Email him at [email protected]
Kerry is a Troy Media contributor. Why aren't you?
---

The views, opinions and positions expressed by columnists and contributors are the author's alone. They do not inherently or expressly reflect the views, opinions and/or positions of our publication.