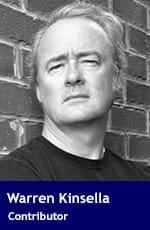 Justin Trudeau's Alberta mistake, followed by the braying and screeching, has even the Washington Post (amusingly) taking note.
The hullaballoo prompts me to declare: I'm an Albertan. Alberta's home. My family has lived there for decades. I'm heading back there to teach at the University of Calgary's law school soon enough.
And, yes, I'm a liberal/Liberal. But just because I've worked for a three-majority Liberal prime minister (Jean Chrétien) and a three-majority Liberal premier (Ontario's Dalton McGuinty) doesn't mean I'm ever afraid to criticize my own team. I've roughed them up pretty good over the appalling Omar Khadr payment, for example.
So believe me when I tell you: this Trudeau forgetting Alberta thing is a prairie-style butt truffle. It's stupid. Why?
Come on. Do you seriously think, conservatives, that he'd leave out Alberta on purpose? Like, seriously? If you think that, you're stupid. Sorry, but you are.
He apologized! The second he realized his mistake, Trudeau walked back to the microphone and corrected it. "I'm a little embarrassed. I got excited somewhere over the Rockies," he said. "Alberta, I love you. Happy Canada Day!"
Alberta matters. The guy doesn't just love Alberta, he needs Alberta. Since 2013, he's invested considerable political capital and resources in winning Alberta seats and it's paid off – even in my hometown of Calgary, a political earthquake last experienced a half-century ago.
Watch him. The day after he announced his run for the Liberal Party leadership in his home riding – the day after – Trudeau went straight to Calgary and professed his undying fealty, as well as his disgust with his father's signature National Energy Program. That did not go unnoticed in Alberta.
He's walked the talk. Trudeau's spilled a lot of political blood, in B.C. and elsewhere, to fight for the pipelines Alberta needs to get its oil to market. On his watch, Keystone XL approval happened. On his watch, Trans Mountain approval happened. On his watch, Enbridge's Line 3 approval happened. A Conservative prime minister didn't get those things done, a Liberal prime minister did – a Trudeau, no less.
Who cares? Sensible Albertans shrugged about the sloppy speechifying. Calgary Mayor Naheed Nenshi, for instance, called the resulting controversy "silly," because it was. "I screw up speeches all the time," Nenshi said. So do the Conservative politicos who brayed and shrieked about Trudeau's snafu.
Alberta has clout. Trudeau put two ministers from Alberta in his rather small cabinet. That's the same number as Manitoba, one more than Saskatchewan and one less than B.C. Overall, Ontario has the most representation at the cabinet table, followed closely by the West. That matters.
Respect. Alberta Liberal legend Darryl Raymaker has recently written an excellent book about Alberta and the Trudeaus, called Trudeau's Tango. In it, Raymaker reminds everyone that the Trudeau name has always been controversial in Alberta – but respected, too. The name gave "Alberta Liberals hope," Raymaker writes. The father then – like the son now – "was a man for his time – new, youthful, superbly confident, tough, and equally articulate in both official languages." What made Pierre Trudeau appealing in Alberta in his era makes the son just as appealing in his. Conservatives dominate Alberta – but the Trudeaus (and Rachel Notley) remind us they don't own it.
Check the numbers. Polls say Trudeau's still competitive. CBC's Eric Grenier – who most recently took an up-close look – says that, even with the Tories way ahead in Alberta, Trudeau is still doing well enough to win again. In fact, Grenier notes, at about 26 percent support, Trudeau is still tracking a couple of points higher in Alberta than he did on election day 2015. While the Conservative Party of Canada, notably, remains where it was on that day.
It was an innocent mistake. None of the conservatives who leapt on Trudeau's gaffe – Jason Kenney, Brian Jean, Michelle Rempel, et al. – were nearly as outraged as they claimed to be. They were, as politicians do, taking political advantage of a rival's slip. It was a mistake, to be sure. But not a career-ending one.
Albertans (where I grew up) are like Quebeckers (where I was born). They see themselves as a distinct society: part of Canada but arguably better than the rest of Canada. As such, when offered the opportunity, they will never hesitate to moan that they've been harmed and humiliated and hurt. It's in the genes.
So will Albertans let Trudeau's slip slip by? Not on your life.
When even the Washington Post takes note of the mistake, there's braying and screeching to be done!
Warren Kinsella is a Canadian journalist, political adviser and commentator.
Warren is a Troy Media contributor. Why aren't you?
---

The views, opinions and positions expressed by columnists and contributors are the author's alone. They do not inherently or expressly reflect the views, opinions and/or positions of our publication.