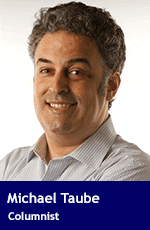 Joshua Boyle's story has never smelled right. Prime Minister Justin Trudeau and his senior advisers surely knew this, so it boggles the mind why they proceeded with a meeting with the former Afghanistan hostage.
The son of a federal tax court judge, Boyle grew up in Breslau, Ont. He graduated from the University of Waterloo with a degree in liberal studies and, according to the Waterloo Region Record, was a self-described "pacifist Mennonite hippy-child."
But he would find himself immersed in a radical Islamic environment due to his brief marriage to Zaynab Khadr (2009-2010). She's the sister of alleged terrorist and convicted murderer Omar Khadr.
Boyle would get remarried in 2011, this time to Caitlin Coleman, a U.S. citizen. The two settled in Perth-Andover, N.B, where he worked as a municipal clerk and in a call centre. (Some work colleagues believe he converted, or was converting, to Islam during this time.)
Boyle and Coleman travelled to Afghanistan in October 2012. They were kidnapped by the guerrilla insurgent Haqqani network, and held until October 2017.
Why anyone in their right mind would venture into a war zone containing a multitude of terrorist organizations is beyond reason. Why he would also travel with his pregnant wife, and ultimately have three children in captivity, is nothing short of sheer insanity.
After the Boyle family's dramatic rescue last October by the Pakistan Army, with the help of Afghan-based U.S. forces, the political buzzards began to hover around a possible feel-good story. This opened the door to a meeting with Trudeau, which occurred just before Christmas.
But how could the Liberals have allowed this travesty to happen?
Phil Gurski, a former analyst for the Canadian Security Intelligence Service (CSIS), asked in a Jan. 3 CBC News interview: "What was the actual motive, shall we say, behind this whole trip in the first place?"
That's a good question.
Toronto Sun columnist Candice Malcolm wrote on Jan. 3 that, according to exclusive correspondence with the newspaper, Boyle viewed his captors as "ghetto trash gangbangers, drug dealers, carjackers" and "I really was willing to kill them." Yet, U.S. intelligence has long suspected the reason behind his Afghanistan trip was to build a relationship with "Taliban-affiliated militants."
Moreover, Gurski made this important point to the CBC: "Somebody in the PMO should have said: 'Is this really the kind of person that we want?'"
Exactly.
I worked in the prime minister's office for Stephen Harper's Conservative government. There were discussions about possible speeches, meetings and photo-ops. The pros and cons of each opportunity were weighed. If everything made sense, we proceeded. If it didn't, we passed on them.
There are suggestions Ottawa may have been advised to hold off on a meeting for a short spell. That's logical, since it would have allowed Ottawa to fill some important holes in Boyle's Swiss-cheese-like story.
Now look what's happened.
On Dec. 30, Boyle was charged with 15 counts of sexual assault, forcible confinement and uttering death threats. Nothing has been proven in court, of course – and it's always possible that post traumatic stress disorder may have been a factor.
Nevertheless, the Liberals' decision to not perform due diligence and/or take necessary precautions enabled this meeting to occur on Dec. 19. The Boyle family ultimately released some photos, including a group shot with the PM. And there's no political spin doctor or Liberal-friendly talking head who can ever make them go away.
Rachel Curran, a former director of policy for Harper, tweeted this to me on Jan. 3: "It remains an everlasting mystery why anyone in the PMO thought it would be a good idea to bring this guy in to meet Trudeau. The lack of judgment is astounding."
I'm just as baffled as she is – and we're definitely not alone.
Troy Media columnist and political commentator Michael Taube is also a Washington Times contributor, Canadian Jewish News columnist, and radio and TV pundit. He was also a speechwriter for former Prime Minister Stephen Harper.
---

The views, opinions and positions expressed by columnists and contributors are the author's alone. They do not inherently or expressly reflect the views, opinions and/or positions of our publication.