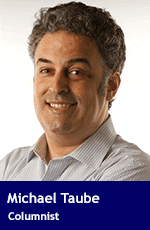 When Ontario Premier Doug Ford recently went to Ottawa to meet with Prime Minister Justin Trudeau, some people assumed the worst would happen.
It's no secret Ford doesn't care for Trudeau. The former's disagreement about implementing a national carbon tax has stretched from the political corridors all the way to the Ontario Court of Appeal.
It's no secret Trudeau doesn't care for Ford, either. During the federal election campaign, the PM mentioned the latter's name in negative terms nearly as often as he similarly mentioned his main political rival, Conservative Leader Andrew Scheer.
But when the two politicians met on Nov. 22, it couldn't have been friendlier. They shook hands, smiled for the cameras, and used conciliatory language that was positive in tone and tenor.
"We're obviously not going to agree on everything," Trudeau told the media, "but the things that we do agree on I look forward to working on respectfully, collaboratively, co-operatively in ways that (benefit) the people of Ontario and indeed people right across the country."
In turn, Ford said to reporters, "We have to send a message around the world that yes, we're a big family and we may have a few bumps in the road, we may disagree, but we have to give businesses out there certainty. Because if you don't give businesses certainty, they'll leave."
The Ford-Trudeau meeting, therefore, went far better than some expected. Some pundits, reporters and observers were visibly shocked. How could two political leaders who've been fighting like cats and dogs for nearly two years suddenly become the best of friends at the snap of the fingers?
That's the give-and-take nature of politics.
You don't have to agree with, or even like, the person at the end of the bargaining table to ensure that civil discourse and mutually-beneficial policies are part of the equation. Rather, you have to put those differences aside and check your egos at the door to ensure things move smoothly and successfully.
Ford has been doing the same with Toronto Mayor John Tory.
Ford and Tory have real differences in policy direction and leadership style. They faced off in the 2014 mayoralty race after Ford replaced his ailing brother, Rob, six weeks before voting began. Tory ultimately won. They would have had a rematch in 2018 had the Patrick Brown controversy not occurred, unexpectedly opening the door for Ford to win the Ontario Progressive Conservative leadership and ultimately become premier of the province.
Ford and Tory have overcome most obstacles for the good of the province of Ontario and city of Toronto. It's never going to be a perfect arrangement, as the fight over decreasing the number of Toronto ward seats from 47 to 25 in last year's municipal election proved. Nevertheless, they've figured out a way to co-exist.
Trudeau also needs to co-exist with other provincial premiers, such as Alberta's Jason Kenney and Saskatchewan's Scott Moe, where there's a strong difference of personal and ideological opinion. In a minority government situation, this strategy is more important than ever.
To be a credible political leader, you have to learn how to play the game to overcome occasional periods of tension and transform them into frequent moments of collaboration.
While that may sound easy and obvious, it's actually difficult. Humans are fallible, and it's hard to put aside personal feelings and grudges. That's why very few people enter the world of politics and even fewer are successful at it.
Ford, Trudeau and their advisers realize the lines of communication must stay open for the good of the country. Even if the two men don't particularly care for one another, and would rather break bread with other individuals if afforded the opportunity, they know it's the right thing to do.
Will the Ontario premier and prime minister be at loggerheads again?
Absolutely.
Will they find a way to get past it?
Without a doubt.
Michael Taube, a Troy Media syndicated columnist and Washington Times contributor, was a speechwriter for former prime minister Stephen Harper. He holds a master's degree in comparative politics from the London School of Economics.
---

The views, opinions and positions expressed by columnists and contributors are the author's alone. They do not inherently or expressly reflect the views, opinions and/or positions of our publication.