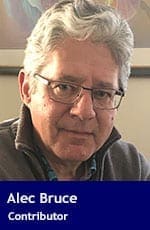 It wasn't too long ago the only viable alternative to the Grit and Tory machines in Atlantic Canada was the New Democratic Party.
You remember them?
They used to come knocking round your front door every election cycle – their game faces plastered on with the permanent ink of utter conviction – offering voters newer, kinder, gentler ways to rule the world (or, at least, this corner of it).
We liked them.
We liked Alexa McDonough, former leader of both the Nova Scotia and Canadian NDP. We liked her predecessor in the House of Commons, Audrey McLaughlin. We liked her successor, Jack Layton, even more.
Lately, though, the "orange crush" has given way to the "green wave," which is the new choice of Atlantic Canadians who are either concerned about climate change, poverty and food insecurity, or simply sick of politics as usual.
In fact, it's this last point that's driving the nation's various campaign buses.
"There's a real disillusionment with conventional politics and unimaginative politicians," P.E.I. Green Party Leader Peter Bevan-Baker told media before forming that province's official opposition in April.
Last month, federal Green Party Leader Elizabeth May said, "The ones I most want to attract are the ones so disgusted by politics that they don't vote at all."
They aren't wrong. The polls back them up. People are attracted to the Greens precisely because they're not especially well-known (i.e. disappointing) political quantities in this region.
For the New Democrats, who once enjoyed this same lack of practical brand awareness, that's bad news.
According to a piece in The Chronicle Herald of Halifax last month, "for the first time, the federal Green Party has surpassed the New Democratic Party in decided support in the Atlantic region, with support more than doubling over the past three months."
But the shift also works against the Greens. Apart from the colour of their campaign signs, how substantive are their differences with the New Democrats?
Here's a test.
Which of the following platform blurbs does May endorse? Which one does current federal NDP Leader Jagmeet Singh get behind?
"(It's) about people, each and every one of us, and the role we play in our country and the essential services we all need to live safe, happy, fulfilled and enriched lives."
Now this:
"Politics is about people. When we work to improve the lives of Canadians, we can build a better Canada where everybody feels included and can follow their dreams."
Give up?
The first comes from the federal Green Party. The second spills off the national desk of the New Democrats.
Or is it the other way around?
Make no mistake, on any given day it's also tough to find a significant point of policy departure between the Liberals and the Conservatives in Atlantic Canada. But together these ancient ruling parties still control 78 percent of the popular vote here, which only proves that the first rule of politics really is inertia.
For a truly viable alternative to successfully persist in this region, green can't be the new orange. To nudge the red-blue machinery even a speck, May, Bevan-Baker and friends will have to muster more than a few sentiments borrowed from their progressive predecessors – sentiments that, even when given the odd chance to flower in government, haven't actually lived up to the billing.
For the new kids on the political block, peddling shop-worn bromides will get pretty old, pretty fast. You want to build a kinder, gentler corner of the world? How? What, exactly, do you have in mind?
Once again, it seems, Atlantic Canadians are ready to entertain a change in the political status quo.
Right now, they like the Greens – their convictions, their leaders. But it remains to be seen whether this "green wave" will amount to much more than a ripple – barely noticed and quickly forgotten, like the NDP before them.
Alec Bruce is a Halifax journalist who writes about business, politics and social issues.
---

The views, opinions and positions expressed by columnists and contributors are the author's alone. They do not inherently or expressly reflect the views, opinions and/or positions of our publication.