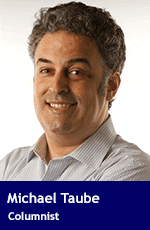 Ottawa Mayor Jim Watson, a former Liberal MPP and cabinet minister, announced last December that he wouldn't be running for re-election. Several candidates announced their intentions to replace him, including former Ottawa mayor Bob Chiarelli (also a former Liberal MPP and cabinet minister) and Catherine McKenney, an Ottawa city councillor and former NDP staffer for Ed Broadbent and Paul Dewar.
While there have been right-leaning and independent Ottawa mayors, including Jacquelin Holzman and Larry O'Brien, conventional political wisdom once again appeared to rule the day in the nation's capital.
Until Mark Sutcliffe declared his candidacy.
Sutcliffe was born and raised in Ottawa. He lives in the city with his wife, Ginny, and their three children. He's been a successful entrepreneur, co-founding the Ottawa Business Journal in 1995 and launching several businesses. He's active in community affairs, having been chair of the United Way and Ottawa Board of Trade as well as serving on several boards. He's authored four books and was an executive editor and columnist for the Ottawa Citizen.
Most people instantly recognize his name from radio and TV. He hosted programs on CPAC and Rogers TV, a podcast ("Digging Deep with Mark Sutcliffe"), and on Newstalk 580 CFRA and 1130 News (now CityNews Ottawa) for 30 years.
The last show is where I first met him.
Although I knew of Sutcliffe, and he knew who I was, we had never met or spoken before. In March 2017, he contacted me out of the blue to do a one-off interview. This turned into a weekly spot until his retirement from radio last July, and he's become a friend and colleague.
Sutcliffe is running as a non-partisan candidate. He's not linked with any political party and never has been. Instead, he's taking the approach of a traditional independent. He's not married to a specific ideology; he'll work with anyone with good ideas and wants to build bridges with as many individuals and groups as possible.
While his political inexperience would put him at a disadvantage at the federal and provincial levels, that's not the case locally. Since Ottawa has no municipal party system, Sutcliffe doesn't have to be linked or beholden to anyone. His role as a political outsider who understands the nature of the beast and those involved in the inner sanctum is a unique candidacy unto itself.
Sutcliffe clearly believes in fiscal responsibility. "I will work hard to address housing affordability and keep taxes and recreation fees as low as possible," he noted on his website. He wants Ottawa to remain a safe community ("I will protect our quality of life by adequately funding our police, fire, and paramedic services and being tough on the causes of crime") and a reliable one ("I will restore confidence in our public transit system, improve our roads, and make it easier for you and your family to get around our city").
The same goes for issues he's discussed in public.
He told CTV News on June 29, "People are worried about the rising price of gas, and food, and so many other things and, as a city, we can't pile onto that by raising taxes by a huge number and add to the affordability crisis, so we have to keep taxes as low as possible." Meanwhile, he tweeted on July 12, "We don't need to spend $900k on a consultant's study to tell us what every taxpayer already knows: we can't afford to make transit free. Let's work together to fix light rail and improve bus service," he tweeted on July 12.
This is a refreshing approach at a time when ideological rigidity and partisanship trump just about everything else. It also helps explain why his campaign is attracting supporters from all walks of life.
Here are a few additional observations.
During our radio interviews, I was always impressed with Sutcliffe's ability not only to ask intelligent, engaging questions but to listen to the responses from start to finish. That's one of the keys to being a good communicator, and he's mastered this skill. He's exactly the same way in private, which is why many of my fellow pundits and commentators liked him and clamoured to be associated with one of his many programs.
He also has the everyman's touch.
In other words, he can speak directly to one person or group and find numerous ways to connect with them. It can be related to anything from current events to one of his great passions, sports. While his decades as a communicator helped facilitate this ability, it's also something you have to have right from the start. You can't manufacture having a genuine interest in family, friends, neighbours and communities. He doesn't have to; it's integral to his persona.
While I don't live in Ottawa, I wholeheartedly endorse Mark Sutcliffe in his mayoral bid. He would be a tremendous asset to the city and a great public servant. Let's hope the voters agree on Oct. 24.
Michael Taube, a Troy Media syndicated columnist and Washington Times contributor, was a speechwriter for former prime minister Stephen Harper. He holds a master's degree in comparative politics from the London School of Economics.
For interview requests, click here.
---
The opinions expressed by our columnists and contributors are theirs alone and do not inherently or expressly reflect the views of our publication.
© Troy Media
Troy Media is an editorial content provider to media outlets and its own hosted community news outlets across Canada.