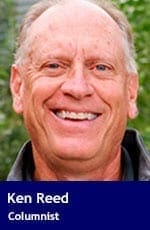 Serena Williams wanted an apology from Carlos Ramos. It should've been the other way around.
Ramos was the chair umpire in the U.S. Open women's tennis final last Saturday. The match pitted Williams against a young upstart from Japan named Naomi Osaka.
Ramos is widely recognized as one of pro tennis's best umpires, one of a small number to earn Gold Badge distinction. That's an important fact to digest given what transpired during the match.
The underdog Osaka surprisingly won the first set handily. Then, early in the second set, Ramos gave Williams a warning because her coach, Patrick Mouratoglou, was coaching from the stands, which isn't allowed.
Williams was upset about the warning and walked from the baseline over to Ramos, in the umpire's chair, and verbally let him have it. In essence, she told Ramos she isn't a cheater and doesn't need or want coaching from the stands. (Mouratoglou admitted after the match that he indeed was trying to coach Williams by motioning for her to come forward toward the net.)
Whether Williams saw her coach's hand signals to come forward or not is irrelevant. The larger point is that players are responsible for the actions of their coach.
Strike one for Williams.
After Williams lost her serve and fell 3-1, she completely lost control of her emotions and smashed her racquet. That's an automatic code violation in tennis and, on top of her previous warning for illegal coaching, resulted in the loss of a point.
Strike two.
But Williams couldn't let it go there. She began to verbally abuse Ramos, pointing her finger at him in a threatening way and calling him a "thief" for docking her a point. She also demanded an apology from him.
Williams had plenty of time to let it go and get back to the match but chose to continue her verbal assault. (Osaka was the true victim here. She had to stand and wait on the court during Williams' tirade, hindering the momentum she had gained by breaking Williams' serve.)
Williams couldn't regain her composure and Ramos eventually gave her a third code violation, which cost her a game.
Strike three.
After a long delay, which included boos from a crowd that was largely pulling for Williams, play resumed and Osaka won the title in a raucous, crazy environment. It was her first major title and the first for Japan.
Unfortunately, the boorish behavior of Williams, who will be 37 later this month, took away a lot of the joy from winning for the 20-year-old Osaka. Osaka has idolized Williams since her childhood. After the match, instead of celebrating the biggest win of her career, Osaka sat on her chair with a towel over her head, filled with conflicting emotions.
Shame on Williams for putting her in this unfortunate – but easily preventable – spot.
Osaka carried herself with great poise, composure and dignity, during and after this match, while Williams acted like a spoiled brat and bully. To win, not only did Osaka have to overcome Williams' tremendous tennis talent, she had to overcome her opponent's terrible behaviour and the unsportsmanlike crowd response it generated.
Yes, Williams did exhibit grace at the awards ceremony, asking the crowd to stop booing and congratulating Osaka for playing a great match. But by then the damage had been done.
Osaka, instead of enjoying her big win, sadly felt she needed to apologize to the New York crowd during the awards ceremony.
"I felt a little bit sad because I wasn't really sure if they were booing at me or if it wasn't the outcome that they wanted," said Osaka during a Today Show appearance on Monday morning. "And then I also could sympathize because I've been a fan of Serena my whole life and I knew how badly the crowd wanted her to win."
Surprisingly, instead of admonishing Williams for her behaviour, many in the tennis world have come to her defence, from television commentators, to former players like Billie Jean King to several newspaper columnists. Their primary argument is that a male player wouldn't have received a game penalty from Ramos for the same behaviour and words.
That may or not be the case. But the key point here isn't what male players might or might not be able to get away with on the bad sportsmanship front, but how Williams and all tennis players should conduct themselves during competition.
Tennis great Martina Navratilova had this to say on that subject in an op-ed column she wrote for The New York Times: "If, in fact, the guys are treated with a different measuring stick for the same transgressions, this needs to be thoroughly examined and must be fixed. But we cannot measure ourselves by what we think we should also be able to get away with. In fact, this is the sort of behaviour that no one should be engaging in on the court."
Exactly.
The rules of tennis need to be applied consistently regardless of gender. No argument there. That said, there isn't any sport – played by men or women – in which Williams' behaviour on Saturday would be tolerated. She would've received a technical foul in basketball, a yellow card in soccer, unsportsmanlike penalty in football and likely an ejection in baseball. In golf, an individual sport like tennis, you simply would never see behaviour like Williams displayed toward a rules official.
This isn't the first time that Williams has lost her composure and exhibited poor sportsmanship in a U.S. Open. In a 2009 semifinal match against Kim Clijsters, the lineswoman called a foot fault on a serve by Williams. She responded by walking toward the lineswoman (it would be hard for Williams to claim sexism in this case), shaking her racket and pointing. Williams said: "I'm going to shove this [expletive] ball down your [expletive] throat," according to CBSsports.com.
Nice. How's that for an example of sportsmanship and respecting the game?
During the past year, Williams has mentioned several times that she's trying to be a role model for her daughter, Alexis. After the Osaka match, she mentioned her daughter again, saying she wanted her to learn to stand up for herself.
That's a very worthy goal. And toward that objective, as arguably the greatest female tennis player in history, she's in a great position to lead a movement for equal treatment under the rules for female tennis players. In addition, she could also take the lead in fighting to get rid of the silly rule that bans coaching during matches in tennis.
But during the U.S. Open final, she didn't provide her daughter with an example of how to stand up for yourself. Instead, she provided – to her daughter and all young girls and boys watching – a classic example of terrible sportsmanship.
Unfortunately, in the end, the 2018 U.S. Open women's final will be remembered for Williams' shameful behaviour, not Osaka's courageous win.
And that's the biggest shame of all.
Ken Reed is sports policy director for League of Fans (leagueoffans.org), a sports reform project. He is the author of The Sports Reformers, Ego vs. Soul in Sports, and How We Can Save Sports.
---

The views, opinions and positions expressed by columnists and contributors are the author's alone. They do not inherently or expressly reflect the views, opinions and/or positions of our publication.