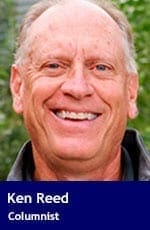 As a member of a sports reform organization, I usually write about problems and issues in sports, and how to address them. But today I'm celebrating the beauty of sport at its best.
Monday's men's U.S. college basketball championship game was a terrific example of passion, hard work, sportsmanship, teamwork, resilience, family and true competition.
The game featured a University Virginia team that was infamous for, a year prior, becoming the only No. 1 seed to lose to a No. 16 seed in the National Collegiate Athletic Association (NCAA) basketball tournament. Little-known University of Maryland, Baltimore County (UMBC) shocked the Cavaliers in the first round.
But that stunning loss is also memorable because of the classy way Virginia coach Tony Bennett handled the crushing loss.
"First, hats off to coach (Ryan) Odom and his staff and UMBC," said Bennett, in a postgame interview. "They played a terrific game. They thoroughly outplayed us and they did a heck of a job. …
"So, with that, if you play this game and you step into the arena, this stuff can happen. And those who haven't been in the arena, or in the competition, maybe they don't understand that. But there's chances for wonderful things to happen, but when you're in the arena, stuff like this can happen and all those who compete take that on. And so we'll accept it.
"You'll remember this. It will sting. Maybe a one seed will get beat again, maybe not. Maybe we'll be the only No. 1 seed to ever lose. It's life. It goes on. We'll have to get past that. For some reason, this is what we've got to deal with, and my job now will be to say 'Hey, how do we bounce back, our players and all that?' But a life lesson is sitting there about defining yourself by maybe not what the world says, but there's other things that matter and then you get back to it."
Get back to it they did.
They chose to look at the embarrassing loss to UMBC as a "painful gift," as Bennett put it, and use it as fuel for this season. Virginia's amazing resilience since that UMBC loss paid off with an overtime national championship victory only a year after the most ignominious defeat in NCAA history.
This year's example of class and sportsmanship came from losing Texas Tech coach Chris Beard, who had this to say after his team was only seconds from a national championship win in regulation before falling short in overtime:
"Let's talk about Virginia," said Beard to CBS's Tracy Wolfson, who had asked Beard what happened to his team in overtime. "Coach Bennett is just one of the most class guys. You talk about a team of destiny, I just think they are really, really good. The poise, and they just find ways to win. I want to congratulate them, their program. It's just an honour to compete with them on this biggest stage of Monday night, and I have nothing but respect for their program."
Beard was then asked how his team was handling the loss.
"We'll bounce back. I'm just so proud of those guys. We have good future fathers in there. Good future husbands. These guys are legit. There's a lot of emotions in the locker room right now but I'm just so proud to be these guys' coach."
I once interviewed David Light Shields, co-author of the book True Competition: A Guide to Pursuing Excellence in Sport and Society. I asked him what he meant by "true" competition.
"True competition recognizes that healthy sport competition relies on a kind of partnership between opponents," he explained. "To do our best, we need opponents trying to do their best, and the mutual challenge that each provides to the other.
"Now, true competitors strive hard to win, they would like to win, but ultimately it's the striving and an emphasis on the pursuit of excellence and enjoyment which is most important in the contest.
"In contrast, some people conceptualize the contest as a form of battle, a metaphorical war, if you will, in which case the goal is simply to defeat the other contestant and claim whatever rewards there are for victory.  That position doesn't really reflect the value of the opponent and what they are providing to the contest.
"We came to these ideas after many discussions with athletes over the years. We came to see these two clear ways of understanding what the process of competing is all about. We then simply refined those two basic frameworks of contesting into competition and de-competition, one based on a metaphor of partnership and one based on the metaphor of war."
That's perfect. True competition is sport at its best. And one year apart, Tony Bennett and Chris Beard gave us examples of what true competitors look like following heartbreaking losses.
That's something we can all celebrate … and try to model.
Ken Reed is sports policy director for League of Fans (leagueoffans.org), a sports reform project. He is the author of The Sports Reformers, Ego vs. Soul in Sports, and How We Can Save Sports.
---

The views, opinions and positions expressed by columnists and contributors are the author's alone. They do not inherently or expressly reflect the views, opinions and/or positions of our publication.