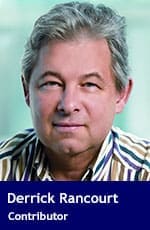 In the recently released 2018 budget, I was pleased to see that the Liberal government has chosen to invest heavily in discovery-based research. According to Finance Minister Bill Morneau, this is the single largest investment in investigator-led fundamental research in Canadian history.
This move is welcomed by universities because science was starved by the previous Conservative government. The investment will also go a long way to solving some of Canada's emerging problems.
But scientists need to better position themselves for the next famine.
As long as I've been a scientist, the Liberals have been supportive of research, while the Conservatives have not.
Following years of starvation caused by the Conservative government of Brian Mulroney, the Jean Chretien-led Liberal government invested heavily in research based on their Knowledge Economy Platform. Through the Canadian Foundation for Innovation, universities doubled their research capacity. This resulted in an expansion of science training programs and a doubling of investigators.
Now that science has passed through a second period of starvation, during the decade of Conservative government led by Stephen Harper, this budget promises to rescue the careers of a generation of young scientists. Those scientists were running out of options because they couldn't find enough funding to establish competitive research programs.
With this new infusion of research dollars, the hyper-competition we've observed over the past few years may be lifted. This is where more established investigators have had a competitive advantage because of their track records and greater experience. Now, with additional funding, concessions will be given to earmark more funding for scientists who are less than five years into their careers.
This investment will also help address the emerging problem of unemployment among younger Canadians. During economic downturns, young employees who are laid off often return to school to upgrade their skills in order to make themselves more competitive. In the biomedical engineering (BME) graduate program, we've seen in influx of students coming back from industry. Since most graduate school programs provide a small salary, it can be a lifeline for young people who are having difficulty finding work, yet want to establish their independence.
Some scientists have indicated that this increased funding is a good start, implying that more is anticipated. Based on my experience, I would caution against this expectation. Scientists young and old need to heed the warnings of the previous Conservative governments, who are less inclined to invest heavily in research. No doubt, there will be a Conservative government in our future and we must prepare for it.
Whereas the Liberals seem to support the idea that innovation is good for Canada, the Conservatives are more pragmatic. They want to see what good has come from investing in research. When this question is put to Canadian scientists, we collectively mumble, because truthfully we have difficulty pointing to specifics.
While the quality of science in Canada is excellent and this allows us to participate on the international stage, what the Conservatives look for is evidence of economic impact. Has research led to new companies and new economic sectors? Has it led to substantive improvements in the health of Canadians?
From my perspective, it hasn't. So the Conservatives are partially correct in challenging scientists for not improving the lives of Canadians. Canada needs to get beyond investing in enough cross-country expertise to implement technologies developed in other countries. We need to innovate and to have other countries emulate us.
Scientists have begun to feel the squeeze from government about having more societal impact. Gone are the days where it was sufficient to publish an incremental advance in a journal article that only a handful of other scientists may ever notice. Scientists are being told to plan and participate in knowledge translation. We need to engage potential consumers of the knowledge we're generating early in the project design phase.
Leveraging different perspectives, we improve the quality of our research and discover applications not previously anticipated. Involving graduate students in this open approach will help them to become known earlier in the research training process and to nurture a network of champions.
Scientists need to become better at recognizing the value of their research. We need to create the inventions and spinoff companies that improve healthcare and create jobs. In BME, we recruit students under that false premise that there is an abundance of BME jobs in Canada when, in reality, students have to move to the United States to procure such jobs.
Through research, we need to build the sectors needed to keep our trained talent in Canada. Students can help. Unfortunately, most investigators shy away from research commercialization because business is a black box to them. Entrepreneurship and business awareness need to be introduced into science training programs in order to end the cycle of failed knowledge translation.
Armed with spinoff companies and sectors, scientists can fend off the next negative review of science from a future Conservative government. If not that, then at least the spinoff companies that scientists create can help provide the resources needed to get them through our next period of starvation.
Derrick Rancourt is a professor in the University of Calgary's Cumming School of Medicine and a director on the board of the Alberta Council of Technologies Society.
---

The views, opinions and positions expressed by columnists and contributors are the author's alone. They do not inherently or expressly reflect the views, opinions and/or positions of our publication.