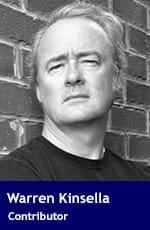 It almost seems kind of quaint.
Back when the Conservative Party of Canada was running things, the commentariat were apoplectic about something called CIMS: the Constituent Information Management System.
"Tory database draws ire of privacy experts," went one CTV News headline. An "unethical invasion of Canadians' privacy," thundered Conservative-turned-Liberal MP Garth Turner. It was "chilling," warned University of Ottawa privacy expert Michael Geist.
A decade ago, the Conservative Party started using CIMS for targeted appeals to voters, for donations and to get out the vote on election day. CIMS gleaned information from door-to-door canvassing, phone banks and direct mailings – and it gave the Tories a decided edge.
CIMS provided the Conservatives with what is called "psychographic" data – that is, very specific information about a person's personality and attitudes, their values and interests, and their lifestyle. It was more than a voter's street address, postal code and voting history: CIMS offered the Tories data about a person's IAOs – their interests, attitudes and opinions.
The value of all that stuff was certainly apparent to the Liberals and the New Democrats, who started to lose to the Conservatives right around the time that the CIMS machine was humming away in a Tory backroom. CIMS gave Stephen Harper's team a means to identify supporters and communicate with them. It also gave them a way to micro-target and then mobilize supporters and potential supporters.
CIMS seems a bit old-fashioned now, like dial-up modems and Blackberries. It has been overtaken by something far more invasive and far more dangerous. And it has a moonish, bland face: Christopher Wylie.
He's a Canadian, as the entire planet knows by now. Among other things, he has hammered the reputation of one of the biggest companies on Earth (Facebook), he has gutted the markets ($100 billion, from Facebook) with his revelations about illicit/illegal activity, and he has set off a firestorm in political capitals around the world (Washington, Ottawa and London, all focusing on Facebook).
He calls himself a whistleblower but that seems to be a bit of mendacious spin and proactive self-preservation. In reality, Wylie was the guy who helped create the companies that gathered highly personal information about millions upon millions of voters.
And he did that kind of work for the Liberal Party of Canada, too, for four successive Liberal leaders. Including the current one, Prime Minister Justin Trudeau.
During the blessedly brief period when I advised former Liberal leader Michael Ignatieff, I never met Wylie. I'm now told that he hung out with what I called the propeller-heads – the ones who manipulated data down in the bowels of the various offices of the leader of the Opposition.
No one in Liberaldom wants to admit to knowing Wylie now, of course, because they correctly sense that a genuine scandal is in the offing. The guy who helped engineer one of the biggest data breaches in human history worked, as it turned out, for them.
Usually, when an individual has become radioactive, politicos adopt a standardized approach. The revolving-door Trump White House uses it quite a bit. First, claim the individual in question was "just a volunteer," nothing more. If that doesn't work, insist the aforementioned individual is unimportant, a coffee boy, in effect. And if none of that works – and it rarely does – join the pile-on, and say, with a straight face, that the president/prime minister/potentate "never met with this person and is co-operating with police."
Pat Sorbara was the federal Liberals' 2011 deputy campaign boss and, in 2014, a very senior campaign adviser to Ontario Premier Kathleen Wynne. She's one of the few who has been willing to speak about Wylie on the record. Wylie was "way ahead of his time," Sorbara marvelled in the Globe and Mail. The two of them spitballed various microtargeting techniques.
"[Sorbara] was impressed by his ideas," reported the Globe and Mail, "but said that after his initial presentation she had to reject his proposals owing to a lack of time and resources." So the story changes yet again: the Ignatieff Liberals didn't reject Wylie because what he was suggesting was unethical and possibly illegal.
No, they didn't use him because they couldn't afford it.
Regrettably for Ignatieff's successor, that all changed in 2016. In that year, Wylie was paid at least $100,000 by Trudeau's political hit squad – the Liberal Caucus Services Bureau. It's impossible to claim that the bespectacled computer whiz with the technicolour tresses is a mere coffee boy – as the Trudeau spinners initially did – because they paid him, they now admit, $100,000.
That's more than what most of their full-time tech folks are paid in a year. And that has all the makings of a full-blown scandal.
Stephen Harper, sitting in a Calgary office tower looking at the yellowed press clippings about the scandal that was CIMS, must be having a good old chuckle.
Warren Kinsella is a Canadian journalist, political adviser and commentator. His latest book, Recipe For Hate, has just been published across North America and Europe by Dundurn Press.
---

The views, opinions and positions expressed by columnists and contributors are the author's alone. They do not inherently or expressly reflect the views, opinions and/or positions of our publication.