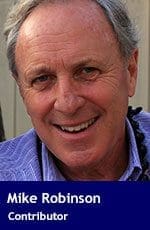 Leaving Granada for the Costa del Sol and the port town of Malaga is simple and complex by turns. The marvellous AVE super-train promises to whisk you to the Mediterranean coast over hills and groves of olive trees at 300 km/h.
It's complex to say goodbye to Granada and the Alhambra palace after only two days in their embrace. This is all part of the allure of Andalusia – you know there is more to see, but you wonder if you shouldn't just stay where you are.
But my wife has bought tickets and made reservations and we have to go. As predicted, the trip is effortless. The Costa del Sol is a place of white-stuccoed architecture, palm trees, yet more Moorish forts, and 25 C weather in October. Our hotel is one street back from a seaside corniche that is closed to vehicles and full of cyclists, strolling couples and occasional runners. The water was dead calm for our arrival, just a fraction too cold for swimming, and the horizon line was banded with a white mist. We looked in vain for a glimpse of Tangier and the north Moroccan coast. They are just beyond sight.
Tall new apartment towers dominated the coastline, and several enormous cruise ships were docked behind the seawall in the inner harbour. Gleaming personal yachts were tethered in a line at the corniche's edge, and just out beyond them an inshore fishing fleet was anchored. We arrived on a Sunday, and there was no indication of dockside labour anywhere. Everyone was taking the sun, looking for tapas bars and generally enjoying life in Malaga. We happily joined them.
On Monday, we once again learned of the old Moorish and Jewish quarter of town, and headed in to discover the Picasso Museum and a multitude of high-end tourist shops and boutiques. It turned out that Picasso left Malaga at the age of 19, famously "never to return." But his life's work is brilliantly showcased in his hometown, and must be a defining part of any visit. The gallery contains 200 stunning masterworks, and you exit via a brilliant gift shop. I bought a classic blue striped 'Picasso shirt' for my 94-year-old Mum who also is a painter of some longevity.
Our second full day in Malaga was spent at the beach, reclining on chaise lounges, drinking beer and watching off-shore swimmers in wet suits swim long lengths between anchored buoys. We easily found a beachside tent café for our comida, which featured barbecued calamari, sardines and clams with more beer. Local fishermen supplied the fresh seafood, and prices were half what you'd pay in Vancouver for an equivalent meal.
And then once again it was time to go.
This time, we rented a small Nissan equipped with a GPS (smart decision as it turned out), and headed west and inland to Ronda. Located 900 metres above sea level, and atop two adjoining sheer-walled islands of upthrust sandstone, Ronda is famous as Hemingway's "most romantic town on earth for a honeymoon or for being with a girlfriend … Nice promenades, good wine, excellent food, nothing to do …"
Once again, we found ourselves in a Moorish fort, high above fertile farmlands, in a maze of stone-walled and white stuccoed architecture created between the 13th and 15th centuries, before Cartesian street grids, buildings taller than three storeys, and other businesslike efficiencies. The Islamic poet Abu al Fida (1273 – 1331) said Ronda, "is an elegant and lofty city in which the clouds serve as its turban, and its towers as a sword belt."
In 1487, the siege of Ronda saw the Catholic Monarchs Isabella I of Castile and Ferdinand II of Aragon defeat the Nasrid dynasty's Emirate of Granada. The victory ended all Islamic rule on the Iberian peninsula, called al-Andalus. As it turned out, the Catholic army simply blocked off the water supply to the town, and its citizens were thirsted into defeat.
Today, Ronda celebrates its dual Islamic and Catholic history in the same way as Sevilla, Granada, and Malaga. The city entertains nearly a million visitors per year, and its economy is based on cultural tourism. Like the entire district of Andalusia – its present and future are inextricably tied to its past.
Mike Robinson has been CEO of three Canadian NGOs: the Arctic Institute of North America, the Glenbow Museum and the Bill Reid Gallery. Mike has chaired the national boards of Friends of the Earth, the David Suzuki Foundation, and the Canadian Parks and Wilderness Society. In 2004, he became a Member of the Order of Canada.
---

The views, opinions and positions expressed by columnists and contributors are the author's alone. They do not inherently or expressly reflect the views, opinions and/or positions of our publication.