Remembering a unique interview with the late music legend Tony Bennett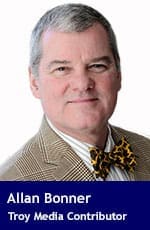 The passing of singer Tony Bennett at age 96 reminds me of the time I sang for him.
I was hosting an afternoon drive radio show in Toronto. The producer was Montrealer John Barbarash, whom, of course, we called Balderdash. He assigned me to go to the Royal York Hotel and interview Mr. Bennett who was booked to sing there.
Balderdash told me to ask Mr. Bennett about the times he sang in Montreal – so relaxed that he took off his shoes, sat on the stage, and sang sock-footed.
Off I went. I knocked on the door of his suite. He opened the door himself, and there was the bluest blue suit and whitest white shirt in show business. I surmised that he had been to China to personally pick out the silkworms responsible for his tie. Speculation is that he wore a toupee. I can't be sure, but from about two feet away, it looked like the best in the world, or his natural hair.
He ushered me in with his famous soft voice, grace, and perpetual smile.
We sat on a couch, side by side, and I asked the usual questions. Then came the Balderash secret weapon (paraphrasing from memory).
Bonner: "Mr. Bennett, I understand you used to play Montreal a lot."
Bennett: "Oh yeah, love Montreal, great audiences."
Bonner: "I also hear you were very relaxed there."
Bennett: "Oh yeah, great audiences, very relaxed."
Bonner: "I hear you took your shoes off, sat on the stage, and sang in your sock-feet."
Three expressions came over Mr. Bennett's face in three seconds which seemed to transmit:
This guy's nuts.
How do I get out of this?
Oh, I got it.
Like the great jazz artist that he is, Mr. Bennett began riffing:
Bennett: "Well, I don't remember that, but Montreal audiences sure are great. I'd love to play there again …"
I knew I could edit this from the recording, so I just moved on to closing questions and comments and turned off my cassette recorder. I turned to my couch mate to say:
"You know, Mr. Bennett, there's an enormously popular song in Quebec – practically a national anthem, I can just imagine your singing. It goes … Mon Payee, c'est ne pas une payee, c'est l'hiver … Mon Payee c'est ne pas une payee, c'est du neige …"
While doing my best to remember the French lyrics, a voice inside my head said, "You idiot, you're singing for Tony Bennett." I stopped and said:
"Oh, sorry Mr. Bennett, I got carried away."
Mr. Bennett waived over an assistant, asked for pen and paper, had me repeat the name of the song, and asked how exactly to spell it. I was now giving dictation to a willing scribe.
Then he walked me to the door, thanking me profusely, shaking hands, and professing great joy in our having met.
It is not clear if he ever looked up the song. I'm just grateful he didn't call hotel security.
Allan Bonner was the first North American to be awarded an MSc in Risk, Crisis, and Disaster Management. He trained in England and has worked in the field on five continents for 35 years. His latest book is Emergency! – a monograph with 13 other authors on the many crises that occurred during the pandemic.
For interview requests, click here.
---
The opinions expressed by our columnists and contributors are theirs alone and do not inherently or expressly reflect the views of our publication.
© Troy Media
Troy Media is an editorial content provider to media outlets and its own hosted community news outlets across Canada.