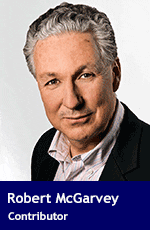 Albertans have enjoyed one of the most vibrant economies in the western world for decades. To maintain that high standard as the resource economy declines, we must get serious about diversification.
Albertans are blessed with two critically important values: a keen work ethic and an innovative spirit. We'll have to draw on both to achieve our goals.
Diversifying Alberta's economy will require us to do things differently. Three fundamental reforms will broaden Alberta's economic base:
Adapting more fully to the knowledge economy;
Improving access to Alberta's capital markets;
Overcome institutional inertia, particularly in management practices and in professions like economics, accounting and banking. All of these professions will have to adapt if Albertans are going to break the cycle of boom and bust in our petro-dominated economy.
We calculate that capitalizing Alberta's abundant intellectual property assets and establishing locally directed, Alberta-first mutual-like funds (perhaps marketed by ATB Financial or credit unions) would open a capital channel to the underperforming technology sector, creating a powerful new economic driver in Alberta.
To realize these goals, professions will have to work more collaboratively. Economists, for instance, almost never talk to accountants (and vice-versa). If economists worked more closely with accountants, they'd have a greater appreciation for the role of assets in our economy. Assets are the lifeblood of every business; they are the originating source of all products or services and drive the revenues that pay the bills. Assets provide the underlying security for bank loans and investment finance of various kinds.
Most Albertans recognize that R&D (research and development) is a principal driver in the economy, but we have little insight into the new intangible asset classes derived from technology. Understanding this is important because investment flows most easily through assets. With a host of new assets at play today, we'll need to get creative in designing new investment channels recognizing those assets if we're going to diversify Alberta's economy.
The first white paper in Troy Media's series Diversifying Alberta's Economy, called Capitalizing Intangible Assets, explains how to treat the new intangible assets from management and accounting perspectives. The result of embracing these R&D assets will be a strengthening of the balance sheets of Alberta technology firms.
To open the capital floodgates, these management and accounting changes need additional support.
Why is it easier to get a mortgage for a house or 100 percent financing for a car than a line of credit at a bank to expand a business? The answer is that capital markets and banks recognize the asset value in houses and cars and don't (or won't) adapt to similarly recognize intangibles, the new value drivers in our economy.
But things can and must change. Before the Second World War, if you wanted to buy a house you needed to save and pay for it in full, with cash. That changed because of political will, driven by the overwhelming desire of Canadians to create a property-owning democracy and to own their own homes.
After the war, government instituted policy changes, established the CMHC (Canadian Mortgage and Housing Corp.) and worked with Canada's chartered banks to provide eligible homeowners with 30-year mortgages secured against assets (the value in their house).
A similar change is necessary to fully enliven Alberta's technology sector. It starts with political will – the overwhelming desire to create an economy that is more broadly based.
Instituting this kind of structural change will help create an integrated financing pathway for Alberta's technology sector, so that it is supported more consistently from the lab to market success.
There is no shortage of innovation in Alberta. Nor is there a shortage of capital. Banks are desperately looking for new commercial loan opportunities and, on the equity side, Albertans already have billions of dollars in savings tied up in low-return investments.
Creating targeted funds would allow these savings to be directed toward local investment-ready technology opportunities.
And stimulating this growth sector would create exciting, high-paying jobs for Alberta's talented youth and help diversify the Alberta economy.
Robert McGarvey is an economic historian and former managing director of Merlin Consulting, a London, U.K.-based consulting firm. Robert's most recent book is Futuromics: A Guide to Thriving in Capitalism's Third Wave.
Robert is a Troy Media contributor. Why aren't you?
---

The views, opinions and positions expressed by columnists and contributors are the author's alone. They do not inherently or expressly reflect the views, opinions and/or positions of our publication.