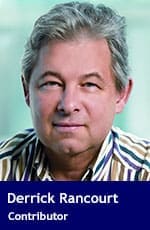 Can Canadian industry lead the Liberal government's latest innovation idea?
I have mixed feelings about the new Innovation Superclusters recently announced by the federal government. While I support more taxpayer money supporting research, I'm not convinced that Canadian industry has the innovation chops to lead Canada out of our doldrums.
True to their innovation mandate, the government has committed $950 million over five years to support five industry-led research consortia to promote regional industry innovation across Canada.
Apparently, Canadian industry is innovation starved – no doubt since Canada's business expenditures on research and development (BERD) is among the lowest of Organization for Economic Co-operation and Development (OECD) countries. The government somehow thinks that if industry doesn't see fit to use its own money to stimulate innovation, perhaps taxpayer money should be the fire starter.
As a mid-career scientist, I'm concerned about how we're eating our scientific young. Under the 'knowledge economy' mandate of a previous Liberal government led by Jean Chretien, I was hitting my stride as a young scientist. Canada decided to invest heavily in research and innovation. The nation doubled its research capacity through the Canadian Foundation for Innovation.
But after hiring a swath of new young scientists to fill that capacity, a concomitant doubling of research funding was not followed by the subsequent Conservative government's 'What has science done for us lately?' mandate.
Now, a generation of Canadian scientists are at threat of losing their jobs because there's not enough funding to support the previous Liberal government's mandate. By my calculation, $950 million would go a long way in supporting one to two thousand starting scientists for the next five years. Instead, this new Liberal government is abandoning the previous investment by doing this new, new thing.
So what's an innovation supercluster?
In astronomical terms, a supercluster is a star cluster that's collectively brighter than the cumulative brightness of its individual stars. In innovation language, we use the word synergy to describe the amplified effect that comes from individual stars resonating off one another. By definition then, the stars that form a supercluster should be in close proximity to one another.
This is the first place where the government's Innovation Superclusters Initiative (ISI) concept falls off the rails. Whereas Silicon Valley in California is truly a supercluster and the model for Canada's concept, the selected ISI participants are distributed over various cities and/or provinces.
We know from experience that geography is a huge deterrent of research productivity. In Calgary, it's difficult enough for scientists to collaborate between the medical and main campuses on either side of the Trans-Canada Highway. How are researchers going to resonate when they're in different cities, let alone provinces?
With its faulty BERD track record, is Canadian industry truly going to lead these initiative? How will it work when there are several industry stakeholders involved? My understanding is that the individual superclusters will solicit smaller research proposals from industry-academia partnerships. If best practised, the research ideas will come from industry with colleges and universities stretching to accommodate their needs. However, this is not the usual pattern of research in Canada. Typically, universities drive the agenda, which might explain Canada's poor BERD.
Hopefully this initiative will help change Canada's research-and-development culture towards greater technology pull. Canadian universities struggle with the adoption of technology by industry. Although many research programs work at the cutting edge, very little attention is focused on application. Rather than understanding customer problems (i.e. design thinking), university professors discern solutions from the ivory tower. If not checked at the door, this 'divine thinking' approach will turn Canada's superclusters into black holes.
One of the saving graces behind this proposal is the inclusion of small and medium enterprises (SMEs). Whereas larger Canadian companies may not have the appetite, research can be the lifeblood for smaller companies. Perhaps research momentum championed by SMEs can positively influence larger peer companies to adopt a stronger research mandate. Likewise, larger companies may, in turn, have a positive effect on the SMEs by encouraging them to stay in Canada rather than be subsumed by the United States, which is the usual pattern.
Of course, several good ISI applicants were unsuccessful. Hopefully, based on the solid planning that went into some of these proposals, there's a will to bootstrap some of them using industry money.
Superclusters should be organic, not contrived based upon chasing government money. A good example is Edmonton's aspirational goal to become Canada's Health City. To its credit, Edmonton has been very effective in attracting multinational pharmaceutical companies. It also boasts a number of health spinoff companies. Most recently, it made headlines by attracting Google's DeepMind group. Edmonton has the makings of a future supercluster, especially if Alberta's single-payer healthcare system can support its companies through collaboration.
Instead of just supporting superclusters, the federal government should be supporting such real, emerging clusters.
In choosing these superclusters, Canada is attempting to stimulate job creation and the economy. Time will tell if the choices made will improve our competitive position in the world.
Tech futurist Steve Case predicts that the next phase of technology advancement will involve "the rise of the rest." Although the tech sector has emerged in only a few hubs, such as Silicon Valley, investment in Canada's emerging strengths in devices, robotics and machine learning may help some Canadian jurisdictions rise.
Derrick Rancourt is a professor in the University of Calgary's Cumming School of Medicine and a director on the board of the Alberta Council of Technologies Society.
---

The views, opinions and positions expressed by columnists and contributors are the author's alone. They do not inherently or expressly reflect the views, opinions and/or positions of our publication.