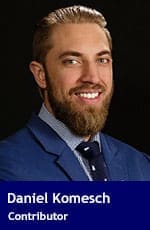 With a host of transformational challenges putting pressure on labour markets, a line from Robert Atkinson and Jeffrey Brown's latest paper struck me: "Nothing about the future of work is inevitable."
Their paper is intended to reaffirm that in the face of structural change, coming impacts can be mitigated through dedicated effort and smart policy.
This lesson is critical for those working in higher education because the challenges surrounding the future of work are deeply intertwined with education. These complex challenges require shifts from the traditional. And for higher-education, this means embracing the fact that there is no longer a traditional student.
Learning is a lifelong endeavour that must be delivered across the whole of the adult population. Governments, employers and educational institutions need to be working more closely together in order to make mid-career training widely accessible. Here's why:
Canada's adult retraining and up-skilling systems lag those of our Organization for Economic Co-operation and Development peers. In a recent report from the Public Policy Forum, Daniel Munro highlights deficits in Canada's adult training ecosystem and finds, paradoxically, that those with the lowest skills or whose jobs face the highest threat of disruption from automation are the least likely to access training.
Munro's conclusions related to access are even more disconcerting if the recent findings of MIT economist David Autor, regarding labour market polarization in the United States, are also true of Canada.
According to Autor, the U.S. labour market is effectively splitting in two – jobs are increasingly either high-skill and high-paying or low-skill and low-paying. The middle of the labour market, which has traditionally provided the middle class with well-paid jobs that require mid-level skills (think manufacturing, office administration and sales), is fast falling away.
Those being displaced face a choice: upgrade skills to compete for high-end jobs or accept a cut to earnings and quality of life in lower-skill roles. The challenge in front of educators is to create and deliver programs flexible enough for those at mid-career to access, and tightly enough aligned to labour market demand that retraining provides a direct pathway back to employment.
One way to speed up training and minimize absence from the labour market is to capture prior education and job experience, then use that information to deliver modular training that fills the gaps. To this end, Prior Learning Assessment and Recognition (PLAR) is an important tool.
One the best examples of PLAR can be found at the British Columbia Institute of Technology, which hosts the National Advanced Placement and Prior Learning Program (N-APPL). N-APPL maps competencies developed in previous employment against academic programs. It allows veterans, newcomers, tradespeople, first responders and others at mid-career to obtain advanced standing in their programs.
Government is well placed to reduce barriers to retraining by creating incentives to fund it. The newly announced Canada Training Benefit – which will provide eligible workers $250 per year, up to a lifetime limit of $5,000 for training fees – is moving Canada in the right direction.
But more should be done. 
For example, the Registered Education Savings Plan (RESP) could be modified to allow indefinite government contributions as well as deductions to support the training of any family member – adults included. It's an idea that's gaining traction in big banks like CIBC.
Or as Munro suggests, the federal government could add horsepower to the Registered Retirement Savings Plan's Lifelong Learning Plan by giving employers the means to contribute more and match worker and employer contributions. Both changes have the positive effect of increasing an individual's access to training dollars.
We also need to find creative ways to keep all major players – higher education, government and employers – connected so individual impact can be amplified. Only together can the actors share skills data and labour market intelligence, pool resources and build collaborative programs. This is needed to take the risk out of training.
There are examples of this happening in Canada, through the likes of the Superclusters and Economic Strategy Tables (ESTs) – but efforts could be scaled. Canada would benefit from sectoral consortia beyond those currently served by ESTs, but that are also critical to our future economy, like green construction and aerospace.
When we work together, we may quickly discover that the challenges surrounding the future of work are easier to remedy than we first imagined.
Daniel Komesch is the director of policy at Polytechnics Canada.
Daniel is one of our contributors. Why aren't you?
---

The views, opinions and positions expressed by columnists and contributors are the author's alone. They do not inherently or expressly reflect the views, opinions and/or positions of our publication.