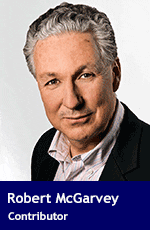 There's an old saying in the strategy game: "Nothing fails like success." A company (or a provincial economy) that has been very successful in the past will cling desperately to that formula long after its breakdown is obvious.
That's true in spades for the oil-and-gas-driven Alberta economy. Albertans need to quit treading water policy-wise, hoping the boom will return, and get serious about changing the economic foundations of our province.
Many, including the provincial government, thought the price of oil was stabilizing this year and perhaps slowly recovering.
Think again. Oil market volatility is sending chills down the spines of traders and that's bad news for Alberta. Last week was particularly bad, as both West Texas Intermediate (WTI) and Brent oil prices dropped violently. And although they recovered somewhat, the message is clear: oil prices are not on the up escalator, as hoped; they're teetering on the edge of an abyss.
What's happening to oil markets? The short answer is U.S. shale oil producers are defying the laws of economic gravity and upping production when they should, logically, be cutting it.
U.S. crude oil inventories hit a record high of 535 million barrels recently, frustrating the hopes of traders who anticipated a significant drop in inventories. WTI prices sank to $46 per barrel on the news and Brent staggered below $50 for the first time this year.
A survey of investment banks conducted early this year predicted an average Brent price of $57 per barrel for 2017. Not surprisingly, this is the price the Alberta government has chosen for its budgeting projections – and it's starting to look overly optimistic.
The global supply picture is equally gloomy. Although the Organization of Petroleum Exporting Countries (OPEC) can take most of the credit for stabilizing prices in 2016 through its production restraint, those cuts are now being discounted as traders shift their focus to the unexpected shale oil expansion. Global efforts at limiting production are being undermined as desperate U.S. shale producers and their banking partners go for broke, ramping up supply volumes, frustrating the more disciplined OPEC and Russian producers.
Libya is adding to the supply glut, having finally restored production at just over 700,000 barrels a day. And Libya's National Oil Corp. plans to add 500,000 barrels per day this year.
It is possible analysts and traders are focusing too much on rising shale production. These kinds of market anomalies create doubt with market players and this uncertainty is contributing to a softening in prices that has lethal potential for Alberta's non-conventional reserves.
Not only are Alberta's oil and gas reserves more costly to extract, they also require enormous capital expenditure on the front end. It's difficult, if not impossible, to imagine capital investment flooding back into the province given the current price volatility.
But, as the government knows only too well, changing the economy is no small task. It won't happen through fiddling on the margins. Change on this scale needs to start with bold action to alter the structure of capital markets. What could a government do to make that happen?
Resurrecting the spirit of the Great Canadian Oil Sands (GCOS) would be a good start. GCOS was a publicly-supported, private-sector initiative in the 1960s designed to change an undesirable status quo. It was financed in large part by Albertans. Its success opened the door to oilsands development, which then drove billions of dollars of international finance into Alberta's energy sector.
Implementing similar initiatives in Alberta's technology sector could create a dynamic industry. The province's technology sector has been described as an emerging economy in waiting. Alberta's undercapitalized and underperforming technology sector could, if adequately supported, deliver above-average returns for 20 or more years.
Doing something bold like this would stimulate an underperforming sector of the economy and allow Albertans to invest directly in growth opportunities. It would help strengthen the technology sector and other underperforming sectors, and begin to diversity Alberta's economy.
Bold initiatives like this would create a new economic direction for Alberta and might just give the New Democratic government a passing shot at re-election in 2019.
Robert McGarvey is an economic historian and former managing director of Merlin Consulting, a London, U.K.-based consulting firm. Robert's most recent book is Futuromics: A Guide to Thriving in Capitalism's Third Wave.
Robert is a Troy Media contributor. Why aren't you?
---

The views, opinions and positions expressed by columnists and contributors are the author's alone. They do not inherently or expressly reflect the views, opinions and/or positions of our publication.