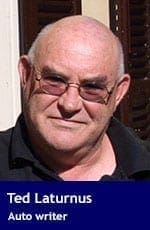 It all started with cruise control.
It was, arguably, the first modern automotive convenience readily available to buyers that didn't fundamentally involve the operation of the vehicle. When it became readily available – in the 1970s, initially in the RV industry – it was something of a sensation: a feature that allowed you to drive on the highway without using the throttle pedal? Amazing.
At the time, some folks assumed that cruise control would just take over the entire operation of the vehicle – speed, steering and so on, and they could take a nap or make a sandwich while the vehicle proceeded merrily on its way.
At least one RV owner did just that: setting the cruise on his unit and then going to the galley to fix himself a snack. You can imagine the carnage that followed.
Anyway, here we are and cruise control is just one of a plethora of engineering features that control everything from backing the vehicle up, to ensuring it stays in its own lane, to shutting the car off automatically at stoplights, to maintaining a safe distance from the car in front of you
Driver input these days, it seems, is decreasing incrementally.
Take the 2019 Honda Insight. Here we have a perfectly sound sedan that is so top-heavy with modern conveniences that it trips over its own feet. A well designed, contemporary four-door that just doesn't know when to leave well enough alone.
Power for the Insight is provided by both a 1.5-litre four-cylinder engine and an electric motor mated to a continuously variable transmission (CVT). Total output for this combo is some 151 horsepower and 197 foot-pounds of torque.
With a curb weight of almost 1400 kg (3086 pounds), this means the Insight is less than lively – it's downright anemic, in fact. But that's okay – with a combined fuel economy of just under 5.0 litres/100 km, it can afford to be a bit of a slug because buyers interested in this kind of hybrid don't usually put performance at the top of their must-haves.
Trunk space is about 416 litres (14.6 cubic feet) and slightly more for the Touring version, which is what I had.
And the Insight will carry 40 litres of fuel.
This is a well-equipped car. Standard equipment includes heated front seats (heated rear seats too in the Touring model), dual zone climate control, Bluetooth, steering wheel-mounted controls, proximity key entry, tilt/telescoping steering and so on. The usual crop of conveniences and comfort features, in other words. It also has an overabundance of  driver-assist technology extras, some of which make sense and others, not so much.
For example, this proximity key entry business. This automatically locks the doors as you walk away and unlocks them as you approach. That's good in theory, I suppose, but I found myself continually reaching into my pocket for the key fob just to get into the back seat. This drove me nuts and if I owned this car, disabling it would at the top of my must-dos.
And then there's the automatic seat positioning feature, which, despite my repeated efforts, refused to memorize my seat settings. This means every time you get in the car, you have to fiddle around with the seat to get comfortable. Again, really annoying.
Ditto with Honda's lane departure warning feature. This wrests steering away from you if you deviate from the lane you're in. It's very disconcerting and I didn't care for it at all. If you need something like this to keep you on the straight and narrow, perhaps you should think about getting a bus pass.
The lane-keep assist, blind-spot warning and adaptive cruise control features are not crucial as far as I'm concerned, but I could live with them.
What we have in the Insight is a fundamentally sound sedan that kills its occupants with kindness. There is just too much nannying here and the overall effect is to numb drivers from the actual experience of piloting the car.
On the up side, I like the hybrid technology and in terms of economical – albeit less than scintillating – transport, the Insight hits the mark.
2019 Honda Insight
Engine: 1.5-litre four-cylinder/AC electric motor
Transmission: CVT
Drive: Front-wheel drive
Horsepower: 151 combined
Torque: 197 foot pounds
Base price: $28,090
Fuel economy: 4.6 litres/100 km city and 5.3 highway with regular gas
Some alternatives: Toyota Prius, Hyundai Sonata Hybrid, Toyota Camry Hybrid, VW Jetta Turbo Hybrid, Kia Optima Hybrid, Honda Accord Hybrid.
Ted Laturnus writes for Troy Media's Driver Seat Associate website. An automotive journalist since 1976, he has been named Canadian Automotive Journalist of the Year twice and is past-president of the Automotive Journalists Association of Canada (AJAC).
---

The views, opinions and positions expressed by columnists and contributors are the author's alone. They do not inherently or expressly reflect the views, opinions and/or positions of our publication.