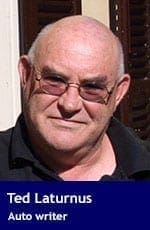 On average, I reckon I drive between 50 and 60 new cars a year. Everything from mainstream four-door family haulers, to high-powered sports cars, to ridiculously overpriced pickup trucks, to over-the-top luxury sedans.
Extrapolate that over a 30-year career and you've got … well, never mind. I drive a lot of cars.
Easily the questions I get asked the most are: What's your favourite car to drive? Which car do you most like to spend time in?
Despite what you may think, it's not an eyeball-popping supercar or features-laden luxo-mobile. These days, my tastes tend to run to the kinds of cars that are easy to get along with, don't confuse and annoy me with (mostly) unnecessary convenience features, and offer a relaxing driving experience.
Of course, I like an automobile that has power and performance on tap if I need it. But I want one that doesn't beat me up with uncomfortable 'sport' seats, or utilize switchgear and ergonomics that would baffle an astronaut. Just give me a car with lots of elbow room, straightforward ingress and egress, a bit of power, reasonable fuel economy, and plenty of storage and cargo space.
A minivan, in other words.
Although they tend to be out of fashion and kind of corny, today's breed of minivan will surprise you with its performance and road-holding ability. It has comfort features that will satisfy the most sybaritic of drivers, offers a high level of driveability, and – most importantly for me – delivers over the long haul.
And nothing fits the bill like the Toyota Sienna.
At 5.095 metres (16.7 feet), the Sienna is a large vehicle. Easily seating seven or eight adults, it tips the scales at about two tonnes and has a combined fuel consumption of about 11 litres/100 kilometres. Six versions of the Sienna are available and the all-wheel drive version – which is what I drove this time around – is slightly thirstier.
Power is delivered by a 3.5-litre V6 mated to an eight-speed automatic transmission only. This engine is used elsewhere in the company's lineup and in this configuration it delivers some 296 horsepower. It has plenty of reserve juice on tap.
What do I like about the Sienna?
• Elbow and cargo room. Slide open the power side doors and you've got about 87 cubic feet of stash room. This thing can carry a massive amount of stuff and you could easily sleep in it if you had to. In terms of seat removal, it's not as easy to get along with as the Dodge Grand Caravan, for example, but fold the seats flat and you've got a miniature auditorium.
• All-wheel drive: The base version has front drive but my tester, a fully loaded XLE with the Technology Package, has a nice little all-wheel-drive system that really gives the Sienna an edge when the weather turns hostile. It's not a down-and-dirty boulder-hopper, obviously, but this is a nice little extra, nonetheless. It's unobtrusive and completely unnoticeable. That said, it does drop your fuel economy slightly.
• Safety: As befits any proper people-hauler, the Sienna is packed with safety goodies. Standard equipment includes a pre-collision alert system, radar cruise control, and lane departure alert. My car also had blind spot control, rear traffic alert, and – I love this one – a stolen vehicle locator. All of this is part of the technology package, which adds some $5,815 to the sticker price.
• Suspension: Normally, a mini-van doesn't concern itself with the finer points of suspension, but the Sienna handles surprisingly well through the turns. It's not a sports car by any stretch but it's easily a match for any similarly-priced four-door sedan.
That said, there are a few things about the Sienna that kind of bugged me.
First, why does a car with this kind of price tag – well over $53,000 by the time the dust settles – not have a heated steering wheel? Not a big deal, I grant you, but still. …
It's also a good thing that it's loaded with safety goodies, because peripheral visibility is kind of crappy. That's true particularly out the front – massive roof pillars block your view out the corners and parking this little tusker can be complicated.
Last but hardly least, this is not an inexpensive vehicle. The starting price for the base version is around $33,000 and the all-wheel-drive XLE model, after taxes and extras, is approaching $60,000.
Still, for useful, comfortable, driver-friendly transport, the Sienna – like the Odyssey and Grand Caravan, for that matter – is pretty hard to beat. Maybe I'm just getting old.
2019 Toyota Sienna
Engine: 3.5-litre V6
Transmission: Eight-speed automatic
Drive: Front-wheel drive or all-wheel drive
Horsepower: 296
Torque: 263 foot pounds
Base price: $45,405; $53,162 as tested
Fuel economy: 13.4 litres/100 kilometres city and 9.6 highway, with regular gas
Some alternatives: Honda Odyssey, Dodge Grand Caravan, Chrysler Pacifica, Kia Sedona.
Ted Laturnus writes for Troy Media's Driver Seat Associate website. An automotive journalist since 1976, he has been named Canadian Automotive Journalist of the Year twice and is past-president of the Automotive Journalists Association of Canada (AJAC).
---

The views, opinions and positions expressed by columnists and contributors are the author's alone. They do not inherently or expressly reflect the views, opinions and/or positions of our publication.