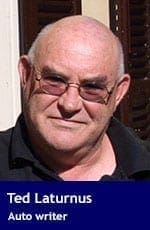 Not counting the Transit cargo van, Ford has at least six crossovers/SUVs in its model range. And with the company set to discontinue its line of passenger sedans in the near future, we can no doubt expect to see more added to the lineup.
For better or worse, this is the way the market is going – people are buying sport utilities like never before. The conventional passenger sedan seems to be going the way of manual transmissions and whitewall tires.
One of Ford's most popular models is the mid-size Edge, which has been around since 2007 and recently received a bit of a makeover. It comes in four trim levels and I spent some time in the ST version.
The ST seats five and is the hotrod of the Edge family. It's powered by a turbocharged EcoBoost 2.7-litre V6. This compares to a turbocharged 2.0-litre four-cylinder engine that comes with the SE, SEL and Titanium models. These engines develop 335 and 250 horsepower respectively and are mated to an eight-speed automatic only.
The ST has some serious get up and go. This model, incidentally, comes with all-wheel drive only, where the smaller engine models have front and/or all-wheel drive. Both models require premium grade gas and the performance numbers from Ford are based on 93-octane fuel. Unsurprisingly, the V6 is slightly thirstier than the four-banger: 11.0 litres/100 kilometres versus 10.0 litres/100 kilometres combined rating.
While there's nothing about the Edge that dramatically raises it above the competition – aside from the performance of the ST – nor is it inferior. This is a state-of-the-art mid-size SUV and it ticks all the right boxes.
A few observations:
• The power is quite intoxicating and a nice surprise during highway driving. Give the ST some gas and hold on because it loves to run and makes all the right noises during hard acceleration. It's a bit of a treat.
• This may be one of the quietest SUVs I've ever driven. Road noise, tire hum and environmental racket are all very subdued. At highway speed, you can easily carry on a conversation without having to raise your voice. I've driven some of Ford's other SUVs and the Edge just feels more tightly screwed together.
• Ford seems to have ironed out its ergonomic and switchgear situation. The Edge has the obligatory centre console and soft-touch controls, but everything is easy to understand and comprehend. And there are redundant overrides for things like temperature control, fan speed, heating and air conditioning. In other words, you can use the monitor or not and things will be just fine.
• The auto-stop feature that switches off the engine during traffic light stops and so on needs work. Yes, it shuts the car off and restarts it, but it's not seamless and you momentarily lose power steering while the car is stopped. Unlike a lot of similar features from other manufacturers, Ford's auto-stop restarts the engine while you press the throttle pedal, not when you release the brakes. This is awkward and kind of annoying. Were I to own this car, I'd be seeking some kind of disabling feature for the auto-stop.
• The rear seats fold down, no problem, via a lever on the top of the seat. But they don't fold completely flat. It's not a big deal but a level rear deck would be nice.
• I learned to like the rotary gear selector, located atop the centre console. Some of Ford/Lincoln's other offerings have a push-button setup, which is okay, but the rotary dial proved to be surprisingly accessible and usable.
• My tester had a heated steering wheel, which worked nicely. In cold weather, there's nothing like it and this should be standard issue on all automobiles sold in the great white north as far as I'm concerned. Ditto with the three-setting heated seats, which were a treat.
Usually, an SUV is designed to be a job-doer, grocery-getting and mall schlepper, intended primarily to be practical and useful. The Edge ST is all of these things, but with a nice lick of performance thrown in for good measure. It's fun to drive, roomy, comfortable and practical. What's not to like?
2019 Ford Edge ST
Engine: 2.7-litre turbocharged V6
Transmission: Eight-speed automatic
Drive: All-wheel drive
Horsepower: 335 at 5,500 rpm
Torque: 380 foot pounds at 3,250 rpm
Base price: $48,349
Fuel economy: 12.6 litres/100 kilometres (city) and 9.2 (highway); premium gas
Some alternatives: VW Atlas, Nissan Rogue, GMC Yukon, Dodge Durango, Hyundai Santa Fe, Honda Pilot, Mazda CX-9, Toyota Highlander, Kia Sorento, Mitsubishi Outlander.
Ted Laturnus writes for Troy Media's Driver Seat Associate website. An automotive journalist since 1976, he has been named Canadian Automotive Journalist of the Year twice and is past-president of the Automotive Journalists Association of Canada (AJAC).
---

The views, opinions and positions expressed by columnists and contributors are the author's alone. They do not inherently or expressly reflect the views, opinions and/or positions of our publication.