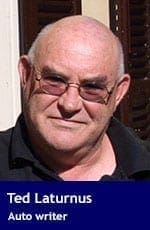 If I was a few years younger, I would love this car – make that quite a few years younger. The 2018 Honda Civic Type R is a young person's car, no question, but even for an old guy, it's a ball to drive.
I love its drivetrain, handling and sense of balance. It's the definitive pocket rocket.
Power for the Type R is amply provided by a turbocharged two-litre, four-cylinder that bangs out well over 300 horsepower. I've said it many times: no one builds a better smaller displacement engine than Honda and this one is a beauty. Over 300 horses from two litres comes to 150 horsepower per litre by my count … impressive.
The transmission is six-speed manual only and it has a rev-matching feature that automatically increases engine rpm to match the gearbox when you're down-shifting. It's the traditional heel-and-toe situation but automated.
It only comes into its own at engine speeds above, oh, 2,000 rpm and sometimes is actually kind of disconcerting.
You can also choose between three driving modes: comfort, sport and take-no-prisoners "R." This drive train really gives you an insight into what this car is all about: performance, and it's an absolute gem.
I especially like the crisp shift mechanism: rifle-bolt precision and race-car shift points.
Inside, you're greeted by Recaro Style 'sport' seats, with high side bolsters and manual adjustments, aluminum pedals, push-button start and all the usual electronic modern conveniences, such as rearview – and side view – camera, voice recognition navigation system, Android Auto, Sirius radio, wireless charging and so on.
The Type R seats four adults and they better be prepared for a rough ride, because this one has uprated performance suspension and rides like a lumber wagon.
A few other observations:
• The interior controls are mostly soft-touch, which is a problem with a car that rides this rough. Literally, trying to change temperature or radio stations becomes a bit of an ordeal unless the pavement is glassy smooth – the tiniest bump will make you miss your target and you wind up having to redo the whole process. These controls are actually a bit of a nightmare and need to be sorted out.
• Ingress and egress is challenging unless you're Gumby or ElasticMan. Getting behind the wheel is definitely worth the struggle, but be prepared for body contortions. I put my back out almost immediately.
• Love the passenger-side camera that activates whenever you turn right. Sometimes, if traffic is light, I just leave the signal on to watch the road go by.
• I just love the close-ratio transmission shift mechanism, another Honda trademark. Smooth with a tight shift-gate, well-spaced ratios and no ambiguity. Top marks here.
• Taste is a personal thing, but to my eyes, the Type R looks like something out of Transformers, which may be the general idea. The Civic is all angles and edges these days anyway, and the Type R just exaggerates its origami styling. The triple centre exhaust is cool as hell, but the back spoiler is particularly hideous – and probably unnecessary.
• Absolutely love the handling and acceleration. Make no mistake, the Type R goes like stink – some very unofficial acceleration runs gave me zero to 100 km/h times of around six seconds, and the Type R can keep up with other hot rods that are much more expensive and feature vastly larger engines. And with 20-inch wheels and tires, it sticks to the road like you-know-what to a baby blanket. Incredibly grippy.
• By the time you've paid taxes and other extras, you'll be up and over the $50,000 mark. That's a lot of money to pay for a Civic, even one of this calibre. Yes, you're on the receiving end of cutting-edge technology, but with a starting price of just under $42,000, this is not a cheap set of wheels by any stretch.
Nor is it a mainstream production model. Honda isn't making that many of these and even with this lofty price tag, they won't be lingering on dealers' lots.
2018 Honda Civic Type R
Engine: Turbocharged 2.0-litre, four-cylinder
Transmission: Six-speed manual
Drive: Front-wheel drive
Horsepower: 306 at 6,500 rpm
Torque: 295 foot pounds at 2,500 to 4,500 rpm
Base price: $41,090
Fuel economy: 10.6 litres/100 kilometres (city) and 8.3 (highway); premium gas
Some alternatives: Subaru WRX STi, Ford Focus RS, VW Golf R, Scion tC.
Ted Laturnus writes for Troy Media's Driver Seat Associate website. An automotive journalist since 1976, he has been named Canadian Automotive Journalist of the Year twice and is past-president of the Automotive Journalists Association of Canada (AJAC).
---

The views, opinions and positions expressed by columnists and contributors are the author's alone. They do not inherently or expressly reflect the views, opinions and/or positions of our publication.