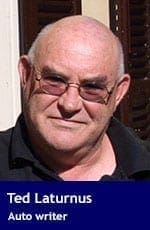 In a market absolutely saturated with utes, sport utes, sport cutes, and full-size beauts, what can a manufacturer do to make its product stand out in the crowd?
In a word, nothing. At least, nothing drastic.
This segment of the auto market is not about game-changing innovations (despite carmakers' boasts to the contrary), revolutionary design concepts or cutting-edge technology.
It's about providing sensible, affordable and usable transport that people will buy because it works. No one wants surprises in this market and the practical, well-thought-out model will win the race every time.
You want a go-fast luxury mobile or corner-carving street beast?
Look elsewhere.
No one knows this better than Mazda. They have a trio of sport utility vehicles on the market: CX-3, CX-5 and CX-9. I recently drove the 2019 CX-5, which is one of the best-selling models in this category.
Introduced in 2012, the CX-5 is available in four trim levels: GX, GS, GT and top-of-the-range Signature. I drove the latter model. All are powered by Mazda's SkyActiv 2.5-litre four-cylinder engine, which delivers 187 horsepower or, in the case of the turbocharged GT and Signature, 250 horsepower.
What sets the SkyActiv power plants apart from many others is their relatively high compression. At 13:01, these engines are almost in hot rod territory, the theory being that maximum combustion efficiency is attained through maximum compression … or something. Throw a turbocharger into the mix and you've got a genuinely lively automobile. However, it does require premium gas.
Even normally-aspirated, this engine is spirited, well-behaved and thrifty. It has all kinds of punch and reserve power, and is a nice match for this compact utility vehicle. It's matched to a six-speed automatic transmission only and you can get the CX-5 with either front- or all-wheel-drive. My Signature model had the latter.
This powertrain, I would argue, is the CX-5's trump card. It almost elevates the car into another category and actually makes it fun to drive – to a point. You don't want to get carried away in the corners, but around town, it'll surprise you with its combination of responsiveness and docility.
Elsewhere, the CX-5 fits right into the compact ute category. You could blindfold me and put me into this car or any of its rivals and I probably couldn't tell the difference. I suppose I could quibble about the centre console-mounted audio controls or the heads-up display, which are both unnecessary and kind of irksome, but that would be picking nits.
That said, this car's wretched auto-lock system drove me crazy. As soon as you get out of the vehicle, it locks itself and you have to fumble around to find the key fob just to get back in.
Were I to purchase this car, the first thing I'd do would be to disable this infuriating feature. It's just a waste of time and energy, and all carmakers should make it optional rather than standard equipment.
With a starting price of about $28,000 for the front-wheel-drive GX, the CX-5 is definitely in the ballpark for most people. My Signature model came with a full leather interior, navigation system and all the usual safety features, such as pedestrian detection, radar cruise control, lane keep assist, lane departure warning and my favourite, "forward obstruction warning."
Many of these things I can do without but if you feel you must have this kind of stuff, be prepared to pay for it – the Signature model is a full $13,000 more expensive than the base car.
This vehicle is a little shy on storage, however. Fold the back seats down and you get 1,687 litres (59 cubic feet) of cargo area. The Honda CR-V offers 2,146 litres (75 cubic feet), while the Toyota RAV4 has 2,000 litres (70 cubic feet) and the Hyundai Sante Fe will give you 2,019 litres (71 cubic feet).
The CX-5 will also seat five adults and has a towing capacity of about 900 kg (2,000 pounds).
It is, in all respects, a usable, practical set of wheels – and with a turbocharger, it's fun to drive.
2019 Mazda CX-5 Signature model
Engine: 2.5 litre turbocharged four cylinder
Transmission: Six-speed automatic
Drive: All-wheel drive
Horsepower: 250 at 5,000 rpm
Torque: 310 foot pounds at 2,000 rpm
Base price: $40,950
Fuel economy: Not applicable; premium gas
Some alternatives: Toyota RAV4, Honda CR-V, Ford Escape, Nissan Rogue, Kia Sorento, Hyundai Santa Fe, Volkswagen Tiguan, Chevrolet Equinox.
Ted Laturnus writes for Troy Media's Driver Seat Associate website. An automotive journalist since 1976, he has been named Canadian Automotive Journalist of the Year twice and is past-president of the Automotive Journalists Association of Canada (AJAC).
---

The views, opinions and positions expressed by columnists and contributors are the author's alone. They do not inherently or expressly reflect the views, opinions and/or positions of our publication.