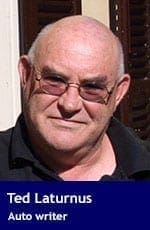 Depending on who you talk to, fully-electric automobiles are definitely in our future. Apparently, they will account for at least one-quarter of all new car sales by 2030.
That number in Canada is around two percent, but with the U.S. mandating that electric cars will make up at least 50 percent of new car sales by 2035 and Canada following suit, carmakers are ramping up their electric car production and introducing a bevy of new models across the board.
Mazda's newest is the MX-30 EV, a tidy-looking compact SUV available in two trim levels: GS and GT.
Powered by a liquid-cooled AC electric motor only, with a single-speed continuously variable-type transmission and a lithium battery pack, the MX-30 develops 143 horsepower and has a purported driving range of just over 160 km. It can be recharged via a 120-volt household plug, 240-volt plug-in or industrial-type quick charge. It has regenerative braking and steering wheel paddle shifters. It will seat five adults, and total cargo space is just under 1,100 litres.
Some notes and observations after spending a week with the MX-30:
● Recharge time is a little sluggish. In my experience, 10 hours plugged into a 120-volt household socket will get you about a 25 percent boost. Mazda claims a full recharge this way – from a 20 percent level up to 80 percent – will take about 13.6 hours.
● The MX-30 is a strictly an urban commuter car. Mazda claimed it has a 160-km driving range, which may be true if you drive like grandpa. But I wouldn't push my luck nor attempt to take it on a cross-country road trip. According to my notes, 30 km of mixed city and highway traffic will consume about 20 percent of the battery charge, starting with 82 percent, ending with 63 percent. Range anxiety is still a consideration here.
● Instrumentation is basic but functional. A couple of dash graphics tell you how many more kilometres you can go, and a percentage readout informs you of the state of the battery's charge status. But the radio is crap – it takes four steps to change bands/stations and I never did adjust to it. What's worse, this model has no AM radio: Apparently, the computer system doesn't like the kind of signals emitted by AM radio, so the most useful band in the system – weather, traffic, road conditions, etc. – are unavailable. This is unacceptable.
● The MX-30 has decent around-town performance and can keep up with traffic, no problem. But it doesn't freewheel like an internal combustion powertrain – you always have to keep your foot in it to maintain momentum, especially on the highway. Again, extended road trips are out.
● The car doesn't seem to like cold weather. During a cold snap, I noticed the heater goes on a bit of a hiatus and takes a while to get back onstream. It eventually warms up but it's not as prompt as a regular automobile. Also, strange squeaks and rattles seem to materialize out of nowhere, and the outside mirrors froze in the closed position.
● The MX-30 is a well-equipped car. Among other things, it has three-setting heated seats, heated steering wheel, Android Auto, Apple Car Play and steering-wheel-mounted audio controls. It also has comfy seats and a relaxing driving position. It's definitely driveable.
● It looks like a two-door but has slick little door latches on the pillar. Yes, you have to open the front door to open the back door, but it's not a huge problem and kind of cool. Rear seat ingress/egress suffers, however.
2022 Mazda MX-30 EV
Engine: AC synchronous electric motor with 35.5-KW lithium-ion battery pack
Transmission: one-speed automatic
Drive: front-wheel
Horsepower: 143 at 4,500 rpm
Torque: 200 foot pounds at 3,243 rpm
Price range: $42,150 – $47,150
Some alternatives: Hyundai Ioniq, Hyundai Kona, Kia Niro, Kia Soul EV, Nissan Leaf, Volkswagen e-Golf, BMW i3, Chevrolet Bolt, Tesla Model 3, Mini Cooper SE
Ted Laturnus has been an automotive journalist since 1976. He was named Canadian Automobile Journalist of the Year twice and is past president of the Automobile Journalists Association of Canada (AJAC). For interview requests, click here.
---
The opinions expressed by our columnists and contributors are theirs alone and do not inherently or expressly reflect the views of our publication.
© Troy Media
Troy Media is an editorial content provider to media outlets and its own hosted community news outlets across Canada.