Although it is an older process, advances in Microdermabrasion techniques and technology have made it one the latest trends in today's cosmetic industry.
Microdermabrasion (MDA) is an epidermal resurfacing procedure, which helps brighten dull and uneven skin tone and texture. It is also often used to minimize the appearance of scars, sun damage, age spots, stretch marks, enlarged pores, and hyperpigmentation, among others. Although it has a variety of benefits, it is best used for reducing fine lines, age spots, and acne scars.
Microdermabrasion was first introduced over 25 years ago in Italy. In 1985, Marini and Lo Brutto developed Microdermabrasion as an alternative to the more aggressive dermabrasion and chemical peels. It was approved by the FDA in 1997.
Today, Microdermabrasion is one of the most common non-surgical cosmetic procedures in North America's aesthetic industry. The American Society for Aesthetic Plastic Surgery states that since 2005, more than 1 million treatments have been performed.
Microdermabrasion is considered a non-chemical and minimally invasive procedure and is performed as an outpatient procedure in medical spa and clinics by a nurse or medical assistant. It does not use anesthesia.
It is considered much gentler than dermabrasion, which treats skin conditions, such as scars, extreme sun damage, and deep lines.
Microdermabrasion spas and clinics can easily be found in most major cities and town all over North America.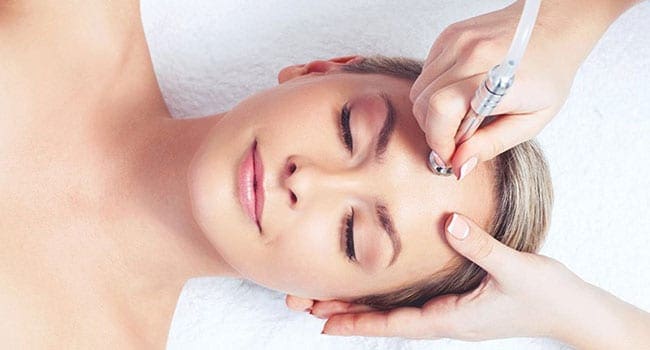 How Microdermabrasion Works
Microdermabrasion removes the outer layer of the epidermis, the stratum corneum. This encourages a new, rejuvenated stratum corneum to grow at an accelerated pace. While epidermal replacement usually occurs every 28 days, with Microdermabrasion, the process is shortened to only 12-14 days. These new skin cells often grow with higher levels of elastin and collagen, resulting in healthier and younger looking skin.
Types of Microdermabrasion
Crystal Microdermabrasion –A hand piece gently sprays fine crystals onto the skin and dead skin cells are then suctioned off. Crystal Microdermabrasion may include aluminum oxide and sodium bicarbonate.
Diamond particle embedded- tip hand piece Microdermabrasion – Diamond-tip is one of the newest innovations in Microdermabrasion techniques and is considered an alternative to the oldercrystal method. The diamond-tip gently exfoliates and suctions off dead skin cells. The depth of abrasion depends on the pressure applied and how long the suction remains on the skin. It is often used on sensitive areas, such as around the eyes and mouth.
Hydradermabrasion – This is the latest method in Microdermabrasion. It provides crystal-free exfoliation and simultaneous dermal infusion of products, increasing collagen production and maximizing blood flow to the skin.
Microdermabrasion Process
Microdermabrasion uses special applicators, such as crystals or diamond-tips, to gently sand and suction away the outer layer of skin.
This removes the top layer of skin, including dry and dead cells, polishing and revealing younger and healthier looking skin.
The process takes 30 minutes to an hour.
Who Should Use Microdermabrasion?
Microdermabrasion is best for those with minor skin conditions, such as fine lines, acne scars, uneven pigmentation, and clogged pores.
Microdermabrasion is not for those with severe problems, such as sagging skin or deep facial creases.
Before the Procedure
Although Microdermabrasion is a minimally-invasive procedure, it is best to cleanse the face and remove any makeup. Avoid exfoliating 3 days before treatment and avoid tanning and waxing a week prior.
Frequency of Treatments and Maintenance
Up to 6 sessions are recommended, however, most people need 5 to 12 treatments.
The treatments should be spread 2-4 weeks apart for best results.
Monthly maintenance is required periodically after the initial regimen.
The entire process can be repeated after 1 year.
Combining with a light chemical peel may increase final results.
Keep skin well hydrated and use UVA and UVB sun protection to prevent hyperpigmentation.
Non-surgical and safe
Safe for all skin types and colours
No anesthesia required
No significant side effects have been reported
Considered safer than a chemical peel for sensitive skin
Requires virtually no downtime and participation in regular activities can resume immediately
Very minimal risks, such as flaking
Microdermabrasion Cost
Microdermabrasion costs depends on a variety of factors, such as chosen clinic or spa, and geographic location.
Microdermabrasion has a much lower cost than other cosmetic dermatology procedures.
In the US, According to the American Society of Plastic Surgeons, costs range from US$75-$200 per session. An average price is approximately US$137 per session.
In Canada, a session is approximately $75 – $95.
Keep in mind that because Microdermabrasion is a cosmetic procedure, it is not covered by insurance.
Recent technological advances have made cosmetic procedures simpler and more affordable than ever. Microdermabrasion is now offered in spas and clinics across North America, allowing everyone easy access to younger, more beautiful skin.
---
This content is a joint venture between our publication and our partner. We do not endorse any product or service in the article.