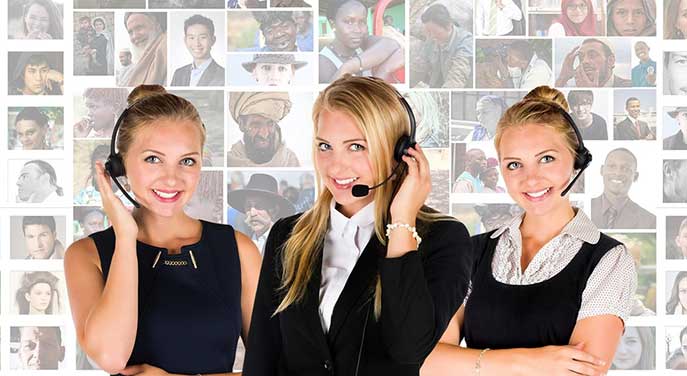 Customer satisfaction is key to the success of your business. Customers are more likely to make repeat purchases when a company offers excellent customer service.
If a customer has a bad experience with a company they can't wait to share it with anyone who wants to listen. One single bad review can have a long-lasting negative effect so it makes sense to do everything you can to improve your customer support.
Luckily, there are various customer service tools your business can use if you want to help customers stay happy and enhance customer loyalty. In this post, we'll explore what's available including things like a power dialer, ticketing system, live chat, push notifications, and much more.
Choosing a Great Customer Service Tool
There is no such thing as a one-size-fits-all tool because customer service requirements are unique to individual businesses. However, there are some general features you should consider when choosing a customer service tool for your business.
Usability: The software should be easy to set up, smart, and intuitive to use.
Effectiveness: A good customer service tool addresses the problems it's meant to solve. It could be stand-alone, self-sufficient, or require other software to work.
Value: Value for money is a critical feature. It should also benefit both your customers and the customer service team.
9 Customer Service Tools to Improve Customer Satisfaction
Here are some of the most common customer service tools that will help to develop good relationships with your customers.
1. Shared Team Inbox
When you've got a large team, organizational problems can be very challenging. Issues such as emails falling through the cracks can result in bad customer support. One way to reduce similar issues is to set up a shared customer support team inbox.
There is one place where all complaints and queries land. This allows customer support channels and team members to combine forces to ensure great customer support.
Once the team inbox is up and running, teams will be able to align marketing, sales, and customer service for a greatly improved customer experience.
2. SaaS Call Center
We may live in a digital age when so much of what we do takes place online, but there are still many customers who prefer to speak with a real human and are hesitant to make purchases online.
Software as a Service (SaaS) allows you to shift call solutions, analytics, and customer relationship management software (CRM) to the cloud.
3. Help Desk Ticketing System
A help desk can be a great customer service tool because it helps you overcome some very frustrating customer problems, for example:
A customer has a problem with a product so they get in touch. They explain the issue to one agent who then transfers them to another agent.
The next agent knows nothing about the customer's issue, so they have to explain it all over again.
There's no immediate resolution so the customer is forced to contact the company again later that day or the next.
When the customer calls back, they have to explain the problem again.
A help-desk ticketing systems mean customers can get quick answers to any problems. The customer is kept up to date with notifications, customer service agents stay on-point, and there is no confusion or delay.
4. Power Dialer
A power dialer is an automated dialing software that allows agents to make outbound calls at their own pace, from any location. A power dialer automatically dials numbers based on predefined criteria. The agents don't have to manually enter numbers as the dialer does it for them. This feature saves agents time and effort.
When the power dialer calls a number the agent sees the prospect's information on the screen as the phone rings and can speak to the contact immediately after they answer.
If the number is disconnected, busy, or unattended, the dialer automatically moves to the next number in the list. If required, the agent can click to drop a pre-recorded voicemail if an answering machine is reached.
5. Push Notifications
If you use push notifications correctly, it can have a positive impact on your customers. You can tailor push messages based on the data you collect. For example, you might choose to use it to conquer your abandoned cart problem, boost customer engagement, and deliver personalized messages encouraging people to make a purchase.
7. Social Media
Your brand will appear to be a digital ghost town if it's not active on social media. Use the various social media platforms to forge relationships with the larger online community, boost brand awareness, listen to consumers' issues, and nurture trust. All of these benefits help you finetune your existing marketing and sales strategies.
The good thing about social media is that engaging with your customers doesn't cost much in terms of time, money, or effort.
8. Email Automation
Email automation allows you to create business emails in advance, then automate them to send upon specific triggers, for example:
When someone subscribes to your newsletter
Downloads an eBook
Makes a purchase
Or leaves an abandoned cart
9. Customer Portal
A customer portal provides customers with the opportunity to take care of their own business. If you offer a dedicated system within your website, customers are free to access their personal data for various reasons:
View order history
Save favorite items
Track orders
Look for personalized assistance
A customer portal offers autonomy and independence for your customers. In conjunction with a self-service knowledge base, customers can search for solutions before contacting a real person.
Final Thoughts
It can be overwhelming when you realize how many customer service tools there are out there. Fortunately, you've now got some suggestions as to where you can start.
---
This content is a joint venture between our publication and our partner. We do not endorse any product or service in the article.