Special Report
Part 4 in our five-part series Back in Balance
Name: Sandra (not her real name)
Occupation: Federal public service employee
Age: 58
Sandra was lonely, depressed and anxious after the painful separation from and then death of her former husband. Her friends suggested she look for a companion on a dating website, someone who could her help move on.
They even helped Sandra (not her real name) set up a dating profile. It was a fateful decision that would lead to financial disaster.
In mid-2017, she met a man who seemed nice in email conversations and they quickly started to spend time together.
"There was no money talk ever," Sandra says, "but after awhile, he started asking me for money."
The man told Sandra he lived in Edmonton and had previously lived in the U.S. and Europe. He claimed he was rich businessman but was having money problems and needed the cash for legal fees. He told Sandra he'd repay her.
The first request was for $3,000. Then another $3,000 and another.
Sandra quickly realized she was being used. "I think I knew it all along but he just said the right things; I was so lonely," she says. "You have to realize, I was in a bad, dark period in my life."
Eventually, in spite of her reservations, the man convinced her to cash in her RRSPs. By then, she had also maxed out her credit cards, switching banks so she could get new cards.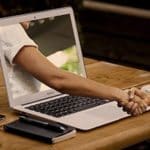 Sandra, who lives a few kilometres outside of Calgary, kept the turmoil secret from friends and family because she was embarrassed about her situation.
"Everybody knew something was going on and they couldn't figure out what it was," she says.
After a few months, the man asked if he could meet her in Calgary following a business trip to South Africa. Although Sandra agreed to pick him up at Calgary Airport, she knew he wouldn't show.
"It still remains a mystery why I drove there (only to) get in my car and drive home," she wrote to friends.
"I had absolutely nothing left inside of me."
That day, the shame and desperation pushed her to try to take her own life.
"I just needed to get off this Earth because I'm letting everyone down," Sandra remembers thinking. "I woke up the next morning. … I had taken so many pills, they (the doctors) had no idea how I lived."
Unable to reach her, Sandra's daughter-in-law sent someone to check on her. A friend found her and took her to hospital, where she stayed for two weeks. Even while she was in hospital, the fraudster texted her asking for more money.
By the time it was all over, Sandra estimates she was defrauded of around $300,000 – forcing her to put her retirement dreams on hold. The family made a formal complaint to police but the chances of catching the fraudster are slim.
While Sandra was in hospital, a social worker suggested she seek help through debt relief specialists Bromwich + Smith to sort out her financial options.
"I was going to retire at 60 and start travelling. And now that will not happen."
Since February, she's been on medication and received support from friends, enabling her to return to work.
"If it wouldn't have been for my family and friends, this would not have worked … and B + S have been amazing.
Sandra's situation is not uncommon, says Nicole Olsen, an insolvency solutions learning and development specialist with Bromwich + Smith.
In fact, the Competition Bureau and the Canadian Anti-Fraud Centre (CACF) received nearly 90,000 fraud complaints from Canadians in 2016.
"Many of our clients have found themselves in similar situations," says Olsen.
"The feeling of guilt and shame can be crippling, and it is important to seek help, financial and emotionally," says Thompson. According to the CACF, only about five percent of scams get reported by victims because of embarrassment.
The federal government has a free guide called The Little Black Book of Scams to help Canadians identify scammers and help protect themselves, says Olsen.
Through the arrangements with B + S, Sandra paid back the $150,000 she used from her line of credit, negotiated with no interest. In five years, she hopes to have recouped the other $150,000 she gave the man out of pocket.
Sandra is feeling stronger as the weeks go by.
"I feel better every day and I'm trying hard to forgive myself. That's all I can do, because I have too much to lose; I just feel that I have such a big heart and yeah, it's tough."
Going public with her experience helps ease the pain, she says.
"I knew I was going to share this, I just didn't know how. It makes me feel better to just know if I can help someone with my story.
"I know that I am a survivor, I have worked really hard and I'm trying to go ahead with my life."
In Part 5 of Back in Balance, Linda Penney describes how she lost her business in the flood of 2013, and then her husband – driving her into unsustainable debt.
This feature was produced in partnership with Bromwich + Smith and Troy Media.
---

The views, opinions and positions expressed by columnists and contributors are the author's alone. They do not inherently or expressly reflect the views, opinions and/or positions of our publication.