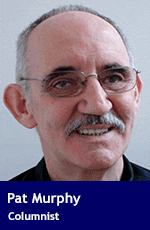 If you turn left upon entering the main gate of Toronto's St. James Cemetery, you'll soon come to a tall, imposing Celtic cross made of stone and inscribed with the family name Hagarty. There are three people buried there, but pride of place is given to someone whose earthly remains repose thousands of miles away in Flanders.
Lt. Daniel Galer Hagarty was two months shy of his 22nd birthday when he was killed in action in Sanctuary Wood, near Ypres, on June 2, 1916. He was an officer in Princess Patricia's Canadian Light Infantry, having enlisted in May of the previous year.
Hagarty is a variant of an old Gaelic name commonly found in the Irish counties of Donegal, Derry and Cork. And although I don't know the specifics of the family's background, the combination of name and Celtic cross strongly suggests that they were originally Irish.
Daniel, however, was born in Toronto and the family lived on Euclid Avenue at the time of his enlistment. So what would induce a University of Toronto civil engineering student to volunteer for combat in Europe? Perhaps several factors were at work.
One would have been the general patriotic fervour then prevalent in English-speaking Canada. In historian Desmond Morton's words, "Women wore badges inviting men to Knit or Fight."
Another factor may have been the typical young male's love of adventure. In a situation where the war was initially expected to be short, you wouldn't want to miss out on a potential once-in-a-lifetime experience.
And there was also the family's military tradition. Daniel's father – E.W. Hagarty – carried the rank of lieutenant colonel.
After first going overseas with the 2nd University Company, Daniel switched to the Princess Patricia's on Jan. 30, 1916. Then, immediately after returning from a late-May week's leave in London, he led his men into the Sanctuary Wood trenches. Two days later he was dead, as were all but three members of his platoon.
Of course, Daniel's story wasn't unique. Nearly 620,000 Canadians served in the Great War, now known more commonly as the First World War. More than 80 percent of those who served were volunteers. Of these, approximately 60,000 died. And several times that number were wounded, many seriously so.
Still, although the war itself generally gets a bad press, it's become standard for historians to regard it as a seminal event in the formation of a distinct Canadian identity. From Ypres to Vimy Ridge to Passchendaele to Amiens, the war's horror and heroism are believed to have had a congealing effect on loyalties. To quote a veteran, "We went up Vimy Ridge as Albertans and Nova Scotians. We came down as Canadians."
But if the Great War left an undoubted mark on Canada's national psyche, was it really a defining event? Were the deaths of Hagarty and around 60,000 others essential for Canada to gel as an independent country?
I don't think so.
While the war may have encouraged a sense of distinctiveness, there were many forces nudging Canada out of its subordinate role in the British Empire. Time and distance can be very potent things.
Politically, the BNA (British North America) Act of 1867 allowed us to take the first giant step, creating the Dominion of Canada and providing what was, for practical purposes, domestic independence. The 1931 Statute of Westminster essentially finished the job. In historian C.P. Stacey's terms, it was "the closest approximation of a Canadian declaration of independence."
Psychologically, the loosening of ties was a subtle generation-by-generation thing. It was greatly facilitated by proximity to the United States, which as early as the 1920s had replaced Britain as primary trading partner and chief external investor. It wasn't that Canadians wanted to be Americans, rather that the pervasive pull of American popular and business culture remorselessly eroded British influence.
Indeed, rather than creating a cohesive national identity, the war can be charged with having had a sundering effect. With nearly 30 percent of the population, French Canadians only provided around four percent of the volunteers, a fact that was deeply resented in English Canada. Then the 1917 introduction of conscription viscerally angered Quebec opinion, leaving long-lasting bitter memories.
The 60,000 deaths were indisputably tragic, but they weren't an essential building block for Canadian identity. In fact, far from it.
Just over 100 years after the death of Lt. Daniel Galer Hagarty, we do well to remember the role he and other brave young Canadians had in forming our nation. But we also must recognize that far more than the war effort shaped this country.
Pat Murphy casts a history buff's eye at the goings-on in our world. Never cynical – well perhaps a little bit.
---

The views, opinions and positions expressed by columnists and contributors are the author's alone. They do not inherently or expressly reflect the views, opinions and/or positions of our publication.