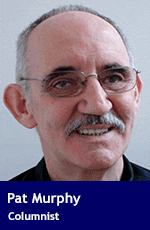 Before inclusiveness became a social mantra, newly arrived immigrant groups invariably went through a period of being viewed warily by society's established mainstream. Irish-American Catholics were no exception to this probationary process. Indeed, it wasn't until John F. Kennedy's 1960 presidential victory that acceptance was fully sealed.
Along the way, the process got a boost from admired public figures. Civil War Gen. Philip Sheridan was probably the first such Irish-American Catholic. And John L. Sullivan, widely acknowledged as the first heavyweight boxing champion of the modern era, followed soon afterwards.
Born John Lawrence Sullivan in 1858 in Boston, he was the child of Irish immigrants. His father came from County Kerry and his mother from County Westmeath.
His parents, legend has it, hoped that Sullivan would be blessed with a religious vocation and enter the priesthood. But with his propensity for brawling, women and "prodigious rounds of food and drink," John L. wasn't cut out for a clergyman's life.
As one reporter put it, "Sullivan was a son-of-a-bitch of the first water, if he ever drank any." The man himself was more philosophical: "We are going to be a long time dead and only a few of us know how to enjoy life as it goes."
Paul Beston succinctly sketches Sullivan's world in his new book The Boxing Kings.
Prizefighting, as it was then called, was illegal in the U.S. and many other jurisdictions, so staging fights involved elaborate subterfuge. Bouts were also fought to the finish with bare fists and could go on for hours. If you think 21st century boxing is brutal, you'd be lost for words in describing the late 19th century version.
Sullivan, though, was a transitional figure. Over the course of his career, professional boxing became legal, bare knuckles were replaced with gloves, fights became limited in duration, and the Marquess of Queensberry Rules were accepted as the governing code.
In Beston's reckoning, Sullivan's rise to the status of "America's first working-class, ethnic celebrity" wasn't solely a function of his pugilistic abilities and colourful personality. There were two other factors at work.
The first was the "growing metropolitan press and the swelling readership for sporting weeklies – especially the National Police Gazette." For a publication with the Gazette's target audience, Sullivan was pure gold.
And the second was the massive build-out of the railroad system. With it, Sullivan was able to undertake extensive tours in the 1880s, putting on exhibitions from coast to coast. He became wealthy in the process but promptly spent it all.
Inevitably, Sullivan came a cropper at the hands of a younger man. And perhaps appropriately, his conqueror, James J. Corbett, was another Irish-American Catholic.
Born in San Francisco to a father from County Mayo and a mother from County Dublin, Corbett was in key respects the opposite of Sullivan. Where Sullivan was rough-hewn working-class, Corbett was aspirational "lace curtain Irish." And where Sullivan was a brawler who relied on strength, endurance and aggression, Corbett was one of the first scientific boxers. Like Muhammad Ali several generations later, movement and evasion were key elements of Corbett's style.
The two men faced off in New Orleans on Sept. 7, 1892. The purse was $25,000, winner-take-all. In Round 3, Corbett broke the heavily favoured Sullivan's nose. In Round 21, he knocked him out.
Corbett – also known by the sobriquet Gentleman Jim – was an altogether more resourceful individual than Sullivan. But he never enjoyed the same degree of popularity.
No doubt, part of this was attributable to being the man who humiliated a widely esteemed public figure. Don't expect oceans of gratitude if you kill a popular king.
Part, however, was down to Corbett himself. Lacking Sullivan's common touch, he was often perceived as arrogant and calculating.
Still, he enjoyed a reasonably successful post-ring acting career. And his 1925 autobiography The Roar of the Crowd was sufficiently popular that I found it in my local County Dublin library 30 years later.
It also inspired a successful movie, 1942's Gentleman Jim. With a raffishly charming Errol Flynn playing Corbett and a boisterous Ward Bond as Sullivan, the film was Hollywood at its most disingenuous. Post-fight, the film shows Sullivan crashing Corbett's victory party to offer congratulations and a tribute.
But the heart-warming scene was fictitious. As Beston notes, "in real life, the two men were bitter enemies to the end of their days."
Pat Murphy casts a history buff's eye at the goings-on in our world. Never cynical – well perhaps a little bit.
---

The views, opinions and positions expressed by columnists and contributors are the author's alone. They do not inherently or expressly reflect the views, opinions and/or positions of our publication.